'Mentally ill' or 'terrorist'? Jo Cox assassination exposes media bias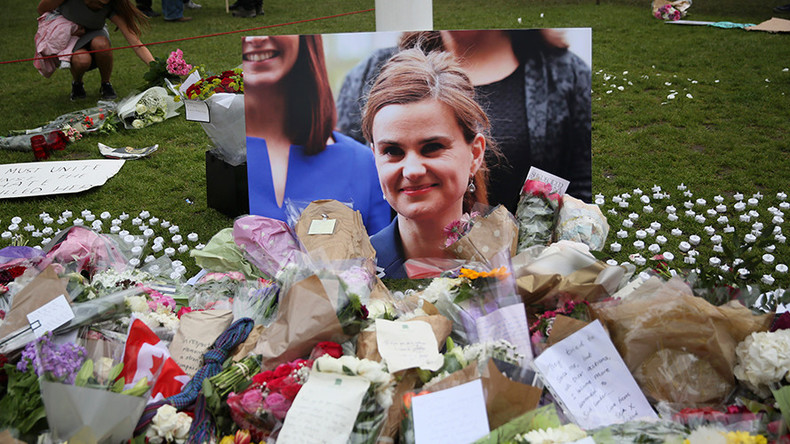 The language used by the media and government officials to describe the alleged assassin of British MP Jo Cox has been criticized for highlighting his "mental illness" and not referring to him as a "terrorist."
Thomas Mair, 52, has links to neo-Nazi and white supremacist groups and reportedly shouted "Britain First" while he stabbed, shot and reportedly dragged Cox down the street by her hair, although it's not known if he was referring to the far-right party often dubbed "racist."
The 41-year-old MP, a refugee advocate and "Remain" supporter, was killed in the height of an ugly EU referendum campaign that's featured hate speech and fear-mongering from a number of different organizations and individuals.
Public supporters of Brexit have been accused of bigotry and xenophobia for their stands on immigration, prompting some initial backers - including Muslim conservative Sayeeda Wari - to abandon what they called a "racist" campaign.
During his first appearance in court on Saturday, when confirming his name, Mair said: "Death to traitors, freedom for Britain," a phrase that means different things to different people.
READ MORE: Thomas Mair charged with Jo Cox's murder as police look into suspect's far-right interests
Though Mair has not (yet) been charged with terrorism offenses, he will appear in court next week under "terrorism protocols."
While there are suggestions that Mair struggled with mental illness, many on social media believe the same could be said for someone who guns down dozens of people in a nightclub, whatever their ethnic or religious heritage.
Despite speculation about Orlando massacre shooter Omar Mateen's links to Islamic State (formerly ISIS/ISL), CIA director John Brennan said authorities have not been "able to uncover any link" between the two.
READ MORE: FBI releases unredacted transcript of Orlando shooter's 911 calls after public pressure
Mateen had behavioral problems and struggled with his sexual identity, but the media's narrative continues to focus on his Afghan roots and religious background.
Similarly, after Mohammed Abdulazeez gunned down four marines and a sailor in Chattanoooga, it emerged the attacker was bipolar and suffered from depression, but the media focused on a more predictable narrative.
In Mair's case, the Daily Mail and Sun referred to him as a "loner," not a terrorist.
American-Iranian commentator Reza Aslan called out the media's double standards.
"He suffered from mental illness is now terror shorthand for 'he wasn't Muslim'... even if he was a f*cking Nazi!" Aslan said.
READ MORE: Far-right Britain First holds 'activist training camp' in remote Welsh mountains (VIDEO)
Pointing out this double standard, Glenn Greenwald from the Intercept cited the 2010 knife attack on British Labour MP Stephen Timms, who was brutally stabbed and almost killed by a woman angry about his vote to invade Iraq.
UK media outlets almost uniformly called the attack "terrorism" and the Muslim suspect a "terrorist," including so-called "left-wing" newspapers like the Guardian.
That stark contradiction continues into this week, after the Rupert Murdoch-owned tabloid the Sun referred to Timms as "Terror Stab Survivor" and his attacker as a "Islamist radical" when reporting his comments about Cox, but never mentioned Mair by name or used adjectives like 'white supremacist', 'terrorist', or even 'mentally-ill loner'.
Those who don't commit acts of violence face a biased system as well. In 2015, Iraqi-born Alaa Esayed was jailed for more than three years after she posted a series of tweets calling for jihad, even though she didn't engage in violence herself.
The same treatment has not been applied to far-right Twitter users, who often call for violence against Muslims without consequence.