Far-right Britain First holds 'activist training camp' in remote Welsh mountains (VIDEO)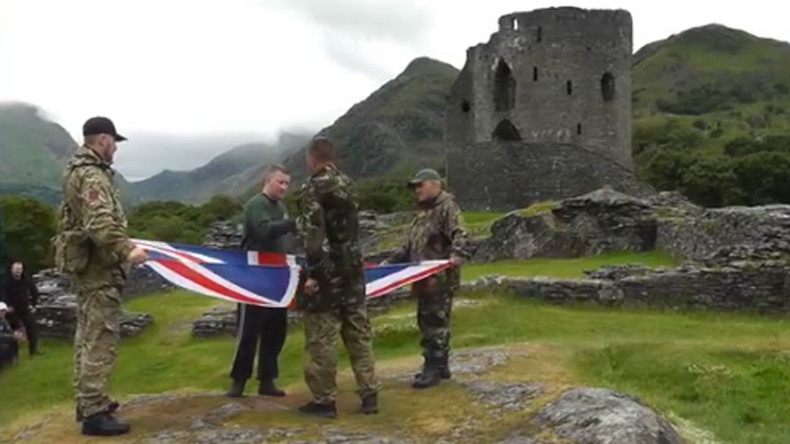 Britain First, the far-right group known for invading mosques and halal restaurants, has released a promotional video showing its members practicing "self-defence" and knife techniques at an "activist training camp" in a remote national park.
Pictures and video posted online show camouflaged men training in martial skills, including boxing, in the mountainous region of Snowdonia in Wales.
Members are also seen swearing an oath to the Union Flag.
Thomas Mair, the suspected killer of Labour MP Jo Cox, reportedly shouted "Britain first" or "put Britain first" before shooting and stabbing her to death last Thursday.
The group has tried to distance itself from the killing, saying it would "not condone actions like that."
Local councillor Trevor Edwards told Britain First to stay away from Llanberis in Wales, the Daily Post reports.
"We do not want them here. I don't want them here. I don't think anyone from around here would want to be associated with them," he said.
"I will look into who owns the land to allow this. I am certainly not comfortable with having these sorts of people in Llanberis."
The video released by the group features rousing music set to scenes of their members, all of them white men, practicing punching and "knife defence."
"Knife defence and self-defence is crucial to keeping our activists safe," the group says on its website.
"Knives are prevalent in our society. We never want trouble but we refuse to leave our activists exposed."
The group said it will hold "many more of these training events in the future."
Britain First was formed in 2011 by former members of the British National Party (BNP) and is regarded as a "hate group" by the country's leading counter-racism and anti-fascism advocacy group.
Hope not Hate researcher Matthew Collins said Britain First is preparing for confrontation.
"Any organisation that uses such hate-inciting language as Britain First should be having a look at themselves after the shocking act earlier this week," he said.
"This is not the WI [Women's Institute] we are talking about, baking cakes or contributing to society. You can see they are preparing themselves for confrontation."
"They are a hate group and they campaign about immigration, Muslims and abortion," he added.
Following the vote that saw London's first Muslim mayor, Sadiq Khan, elected in May, Britain First's candidate in that election, its leader Paul Golding, turned his back on Khan as the results were announced on a stage at City Hall.
Britain First later issued a press release, vowing to "target Muslim elected officials."
It added: "Britain First has an official policy of banning Islam in the UK and will not stop until all the Islamist occupiers are driven out of politics completely."