Jeremy Corbyn urges Labour to back 'Remain', despite own EU doubts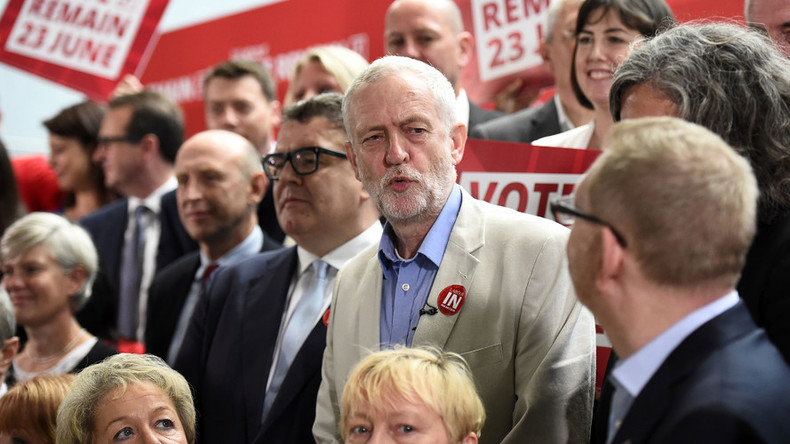 Jeremy Corbyn has urged the "whole Labour movement" to back the drive for the UK to stay in the EU, in a bid to halt the momentum of the Leave campaign.
Leaders of 11 trade unions joined Labour's entire shadow cabinet, to bring party supporters together ahead of the referendum on June 23.
Corbyn issued "an appeal to the whole Labour movement and Labour supporters across Britain to support a remain vote in next week's referendum.. to protect jobs and rights at work."
READ MORE: British voters 'ignorant' about Brexit thanks to misinformation, new poll finds
This comes after a series of Guardian/ICM polls found support for leaving the EU rising rapidly, with a six-point lead now established for the Brexit camp .
Similarly, a YouGov poll put Leave 10 points ahead of Remain at 49 percent, prompting "blind panic" from Downing street, an unnamed source told The Guardian.
Despite Corbyn's push for remaining in the EU, his attitude to the 28-country bloc has been called into question, with evidence that he is, in fact, skeptical of the body.
Along with voting in favor of leaving the European Economic Community in 1975, Corbyn also voted against the Maastricht Treaty, which formed the EU.
On the EU's relationship with Greece, the Labour leader said it was treating the Greek crisis last year "brutally" and warned that the European Union would "lose a lot of support from a lot of people."
READ MORE: NATO, refugees, Brexit: Newly-elected Labour leader Jeremy Corbyn in best RT interviews and more
The majority of Labour MPs support a vote to remain in the EU, but Corbyn has been accused of not fully engaging with the campaign, according to the BBC.
Meanwhile, 12 trade union general secretaries signed an open letter to the Mirror, warning of dangerous consequences for jobs, workers rights and the NHS, should Britain opt to leave.
"Right now, we're worried," the collective representing UNITE, UNISON and Trades Union Congress (TUC) wrote, along with other major unions. "Worried that the UK will vote to leave the European union - and that will be a disaster for working people."
"Vote Leave" supporters have accused Labour and the TUC of basing their economic analysis on "highly negative assumptions."