Ship-mounted laser cannon tops British military's wish list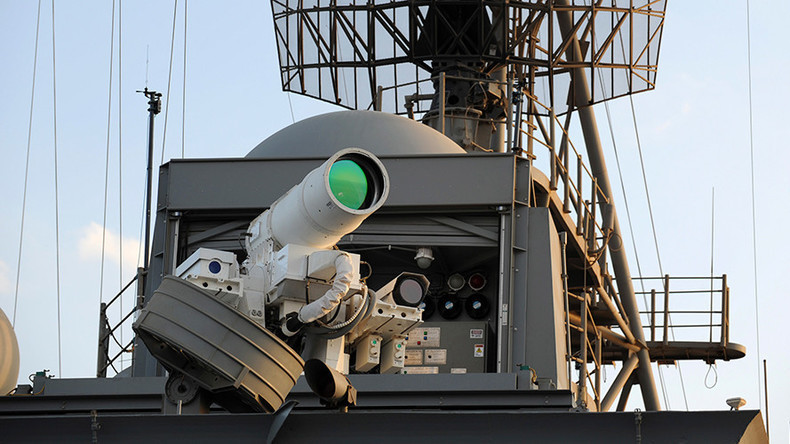 Britain's military establishment is evaluating firms that have tendered for a contract to build the next-generation ship-mounted laser cannon, designed to burn up attack boats and drones at close range.
The new laser cannon would be mounted on ships alongside the existing Phalanx Gatling gun, the manufacturer of which, Raytheon, is among the bidders.
The move would see the UK following in the footsteps of the US Navy, which has already deployed a shipboard laser to the Persian Gulf.
The effort to build a prototype is being organized by the UK government's Defence Science and Technology Laboratory (DSTL). The end product will be a laser directed energy weapon capability demonstrator (LDEW-CD).
It appears the laser would complement the existing 20mm weapon, the existing capabilities of which are potent.
Phalanx had "previously been used to shoot down mortars during land operations, so can bring down UAVs as well," missiles specialist at Raytheon Andy Rhodes told the Flightglobal aviation website on Wednesday.
In 2014, the US reported its first deployment of the laser weapon in the Persian Gulf.
It took Naval Sea Systems Command technicians seven years and $40 million to develop the technology to the current stage. The tour in the Gulf is more of a trial continuation than regular duty, as the Navy wants to learn more about its new tool.
The technology's big advantage is its operational efficiency, as firing one shot costs just around $1, the US Navy stressed.
It isn't all plain sailing though. The lasers have their own peculiarities, with their efficiency depending on weather conditions, the presence of dust and vapors in the air, and other factors.
The range of the laser remains highly classified.