'Tony Blair lied on Iraq and will be exposed by Chilcot report' – Corbyn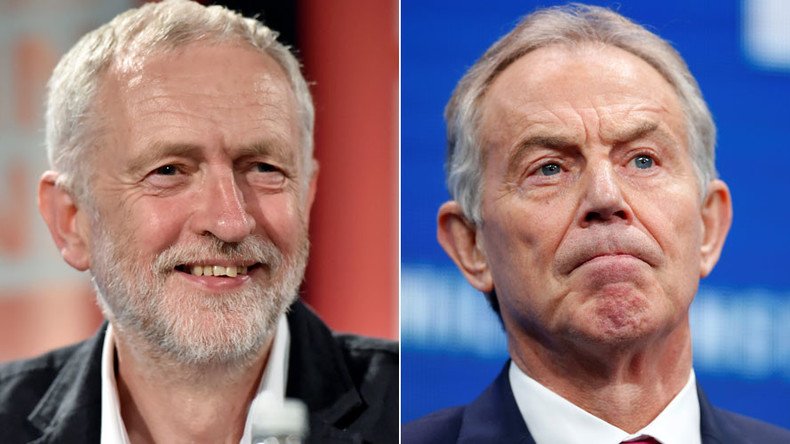 Former Prime Minister Tony Blair's lies about weapons of mass destruction and his secret war pact with former US President George W Bush will be exposed by the Chilcot Inquiry, Labour Party leader Jeremy Corbyn has said.
Sir John Chilcot is due to finally release his long-delayed report on the legality of the 2003 Iraq invasion on July 6, seven years after the inquiry was commissioned.
Corbyn made the remarks on Tuesday in a speech at the London School of Economics to honour the late Ralph Miliband, a Marxist scholar and father of Corbyn's predecessor, Ed Miliband.
While Corbyn supported some of the domestic achievements of Blair's "New Labour," he argued it had stuck too closely to its neoliberal, Thatcherite ideological roots.
Addressing Blair's Iraq legacy, Corbyn warned: "The Chilcot report will come out in a few weeks' time and tell us what we need to know, what I think we already know: There were no weapons of mass destruction, there was no ability to attack within 45 minutes and a deal had been done with Bush in advance."
Corbyn took a leading role in opposing the 2003 invasion both inside and outside parliament.
Asked if Blair should be tried for war crimes, Corbyn said: "If he's committed a war crime, yes. Everyone who's committed a war crime should be.
"I think it was an illegal war, I'm confident about that, indeed [former UN Secretary General] Kofi Annan confirmed it was an illegal war, and therefore [Blair] has to explain to that."
"Is he going to be tried for it, I don't know. Could he be tried for it? Possibly," Corbyn added.
Some MPs are trying to revive a campaign to have Blair prosecuted for his part in the war, either at an international tribunal or by a special parliamentary impeachment process.
Although rare, parliament can impeach a current or former official. It would involve a member of the Commons presenting evidence in the manner of a parliamentary motion, and if carried, it would then move to the House of Lords. If it was also passed by the Lords, the impeachment process would resemble a conventional trial.
The last time parliament attempted to impeach anyone, however, was in 1806, according to the BBC.
Scottish National Party (SNP) MP Alex Salmond said Monday that, rather than parliamentary impeachment, he favored Blair being brought before the International Criminal Court (ICC) in The Hague.
However, the ICC has said it is not yet able to exercise jurisdiction over international "crimes of aggression" – the offense often connected with Blair's role in Iraq.
The ICC will rule on whether to extend its powers to try suspects of aggression on January 1, 2017.
You can share this story on social media: