'Crime of aggression': Alex Salmond's quest to put Tony Blair on trial over Iraq hits legal snag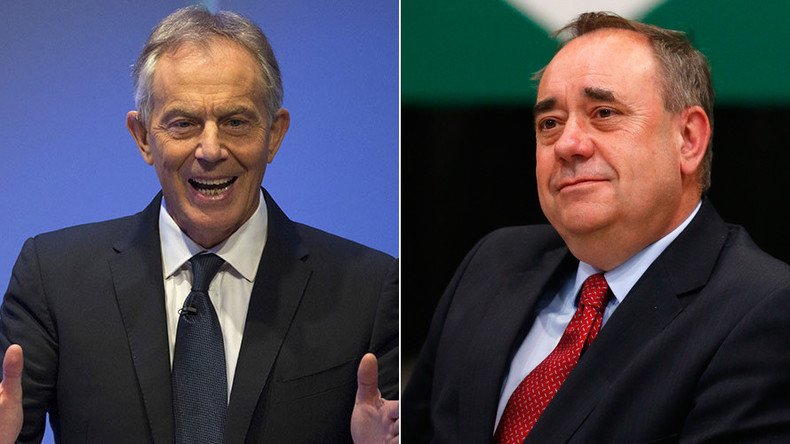 Scottish National Party (SNP) MP Alex Salmond wants to re-energize a cross-party alliance to see former PM Tony Blair brought before the International Criminal Court (ICC) over the 2003 Iraq invasion. A legal issue may kill his ambition, however.
Salmond's efforts to reassemble a cross-party alliance ahead of the much-delayed publication of Sir John Chilcot's Iraq Inquiry report may be hindered by the limited remit of the ICC, which says it is not yet capable of trying suspects for the crime of aggression.
The issue hinges on whether the court will be able to "exercise jurisdiction" over cases of "aggression," which it defines as a "crime committed by a political or military leader which by its character, gravity and scale constituted a manifest violation of the [United Nations] Charter."
Although there is support for such a move, the decision to include it will not be made until January 2017.
Although the British Parliament has its own process of impeachment, which some MPs want to revive, Salmond appears determined to take the ICC route.
Salmond's concerns focus on the Blair-Bush conversations of 2002, in which critics maintain the then-PM committed Britain to war.
"If, as I believe ... Chilcot finds that there was a prior commitment from Blair to [George] Bush at Crawford ranch [President Bush's Texas home] in 2002, that would provide the reason for pursuing the matter further," Salmond told the Sunday Times.
He said he believed the "best route would be to use the ICC because the prosecutor is able to initiate action on his or her own behalf on presentation of a body of evidence, which Chilcot would provide."
While Salmond favors the ICC route, he told the Herald Scotland on Monday he is open to any avenue that proves effective. He suggested that if Chilcot presented a "causal link" then it would likely be down to a group of citizens to "take this evidence to the office of the prosecutor of the ICC and ask him or her to investigate."
You can share this story on social media: