ISIS hackers claim to have 'infiltrated' Britain through defense ministry mole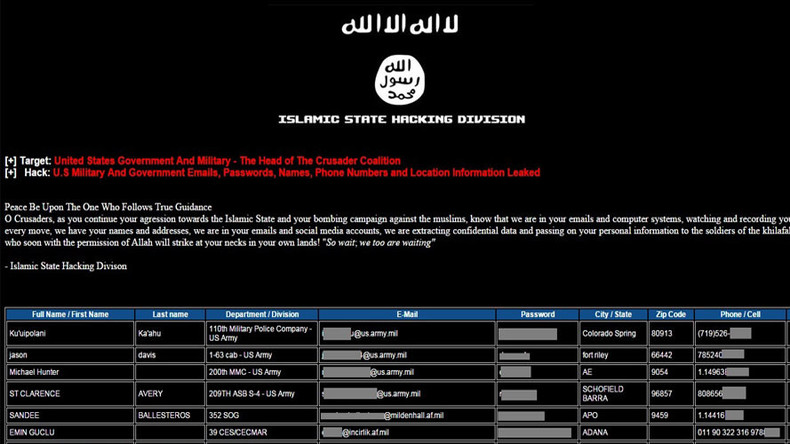 A cyber hacker collective linked to Islamic State claims it has a mole in the Ministry of Defence (MoD), who will "slowly and surely" infiltrate the UK.
An offshoot of the Islamic State (IS, formerly ISIS/ISIL), the group calls itself the 'Islamic State Hacking Division' and made the threats after publishing a hitlist of targets to kill, including details of 75 US Air Force personnel.
READ MORE: ISIS-aligned hackers leak confidential info on 43 US State Dept employees
According to a Sunday Times report, hackers said they would "disclose secret intelligence" from an alleged source working in the MoD.
"In our next leak, we may even disclose secret intelligence the Islamic State has just received from a source the brothers in the UK have spent some time acquiring from the Ministry of Defence in London as we slowly and secretly infiltrate England and the USA online and off," the collective wrote.
Although the names from the US hitlist appeared genuine, they were apparently obtained from public sources such as newsletters and articles available on the internet, rather than a hack or leak.
READ MORE: 'ISIS hackers' target Google… but end up taking down small Indian SEO firm
The MoD said it doesn't comment on leaked documents or personnel security measures, but maintained that it was a priority.
"Our increasing defence budget means that we can stay ahead of our adversaries in cyberspace while also investing in conventional capabilities," a spokesperson said.
The IS 'cyber caliphate' was previously led by Junaid Hussain, a British-Pakistani hacker from Birmingham who was killed by a US drone strike in Syria in 2015. His wife and Muslim convert Sally Jones has also called for "lone wolf" attacks against RAF locations in the UK.
READ MORE: British-born top ISIS hacker killed in Syria drone strike – report