Muslim school denies Ofsted claims of gender segregation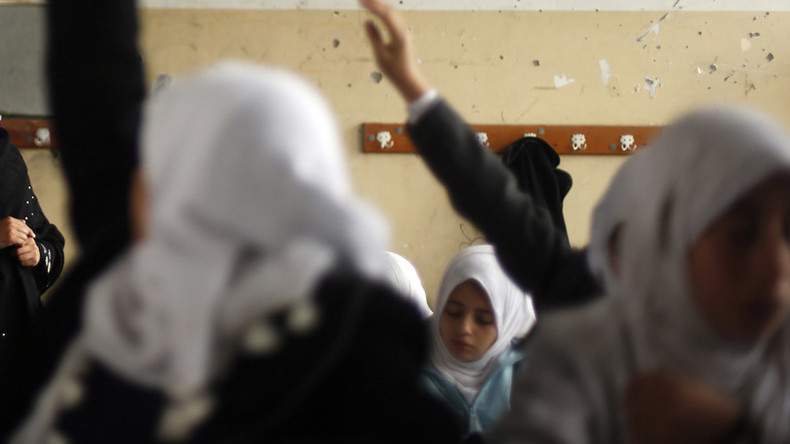 Some independent Islamic schools are "undermining British values" by ignoring calls to end gender separation among their staff, the UK's education watchdog has warned after an inspection of an Islamic school in Luton.
In a letter to Education Secretary Nicky Morgan, Senior Ofsted inspector Sir Michael Wilshaw revealed that the Rabia Girls' and Boys' School segregated male and female staff by using a dividing screen across the middle of a classroom during an initial meeting with inspectors.
In its own letter to Morgan responding to Wilshaw's claims, Rabia Education Trust noted that inspectors failed to express concern about the dividing screen during the two inspections in mid-April, and it was only after Wilshaw himself came back a third time that he flagged the issue.
The letter, seen by RT, also noted that because management staff were "sitting side by side as opposed to females behind the males," the inspectors appeared satisfied that the arrangement did not "constitute going against fundamental British values."
Wilshaw wrote that the school, which serves 160 students, also regularly enforces segregation during school training sessions, with male staff in one classroom and female staff in another part of the school.
The Rabia Trust however said that just a single training session was segregated.
"[The training session] was not simultaneously broadcast in another part of the school, but to a completely different building on another road, as the boys' and girls' sites are not in the same building."
In 2014, guidelines were introduced requiring all schools in England, including faith schools, to "actively promote fundamental British values to their pupils," both in lessons and in extracurricular activities.
"Despite the changes introduced in 2014 by the DfE [Department of Education] to strengthen the independent school standards in relation to fundamental British values, it is clear that these are not being followed by some independent schools," said Wilshaw.
"It is my view that these revised standards are being actively undermined by some leaders, governors and proprietors.
"Any form of segregation, without a good educational reason, is likely to lead to an inadequate inspection judgment for leadership and management."
According to the letter, because of concerns over segregation, the school is to remain in the "inadequate" category, despite progress being made in other areas in response to earlier inspections.
A 2015 report slammed the school for gender-based inequalities in the curriculum, noting that girls "lack the opportunity to study science in a practical way because they do not have the same access to laboratory facilities that the boys have."
READ MORE: Swiss school lambasted for backing Muslim teens who refuse to shake hands with female teachers
The Rabia Trust said that Ofsted inspectors had witnessed use of a screen over the course of a number of inspections in last fifteen months and failed to mention that it was a problem.
"We feel extremely disheartened and insecure about the fact that the goalposts are not clear and keep changing as all parties involved, Ofsted inspectors, the school and parents, are unsure about what constitutes going against fundamental British values," the Trust wrote.