Swiss school lambasted for backing Muslim teens who refuse to shake hands with female teachers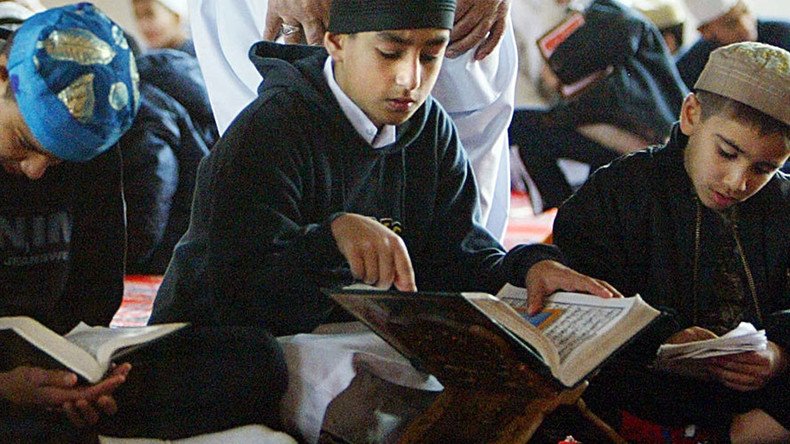 A school in Switzerland says its Muslim pupils will no longer have to shake hands with female teachers following a controversial ruling. Two male Muslim students said they did not want to shake hands with women as it was against their religion.
The school in the northern Swiss municipality of Therwil, which is in the canton of Basel, took the decision after two male pupils, aged 14 and 15, complained that they were being made to shake hands with their teachers, including female members of staff, which is part of Swiss custom. The Muslim students said this went against their religious beliefs.
The boys argued that Islam does not permit any physical contact between members of the opposite sex, unless it is with family members.
The decision was not met well across much of Switzerland, with Justice Minister Simonetta Sommaruga weighing into the debate, saying that "shaking hands is part of our culture," according to AFP.
Meanwhile, Christoph Eymann, who heads the Swiss Conference of Cantonal Ministers of Education, agreed with Sommaruga, insisting: "We cannot tolerate that women in the public service are treated differently from men."
The local Therwil council also did not come out in support of the school's decision; however, the council said it "will not intervene as [it] is the responsibility of the school to set the rules," spokeswoman Monika Wyss told AFP in a statement.
"The same rules should apply to all students," argued union president Beat Zemp, as cited by Swiss Info. He also mentioned that the wrong signal was being sent out to students, as after they leave the school environment they will have to shake hands with peers and colleagues of both sexes anyway.
However, Muslim groups in Switzerland stated that the reaction was overblown, adding that there was a "clear prohibition of this contact form [handshakes] between sexes."
"One would think that the continued existence of Switzerland's core values was at stake, when this particular case in fact involves just two high school students who have said they wish to greet their teacher in a different way than with a handshake," the Islamic Central Council of Switzerland said in a statement, according to AFP.
In November, the Swiss canton of Ticino announced women wearing the burqa or niqab would be faced with a fine of up to $9,790, after the government made it illegal to wear the veils in public. Almost two-thirds of the region's voters supported the ban in a 2013 referendum.
The law makes no exceptions for tourists. People visiting Ticino will be informed at airports and by customs officials at the Italian border that it is unlawful in the canton to hide their face. Forty-thousand people visited Ticino from the Middle East in 2014.
The announcement by the Ticino authorities prompted an Algerian businessman to say he would pay all of the fines for Muslim women who would be penalized under the legislation.
"I am going to pay all the penalties in order to neutralize the law," French-born Algerian internet entrepreneur Rachid Nekkaz was cited as saying by the country's ATS news agency in December.
The businessman previously challenged the ban on burqas in France, where they were outlawed in 2010. He established a fund of several million dollars, which he says has been used to pay over 1,000 fines issued by the French authorities.
You can share this story on social media: