Labour bans McDonald's from conference for its anti-union history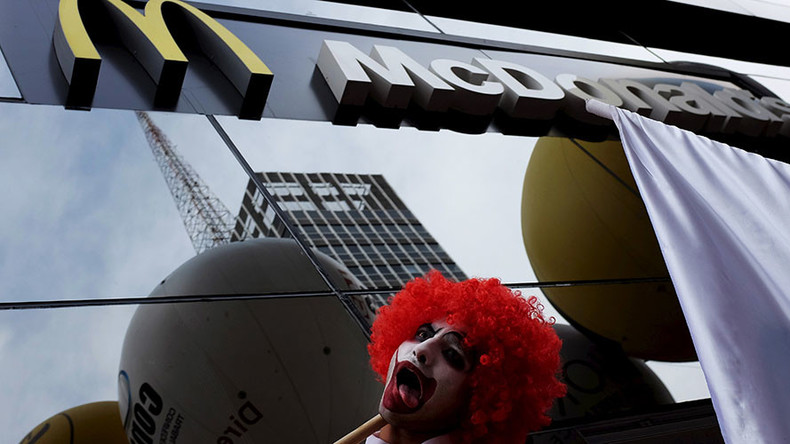 The UK Labour Party has banned fast food chain McDonald's from the party's annual conference in September over its poor employment standard and lack of union recognition, turning down £30,000 in the process.
It's understood the restaurant chain was to set up an "interactive experience" display to promote produce from British farms, but it was refused permission to do so by the Labour National Executive Committee (NEC).
While McDonald's has been approved at the Conservative and Scottish National Party conferences, the NEC refused because "McDonald's have failed every test when it comes to union recognition and decent employment standards," reported Politics Home.
READ MORE: McDonald's UK boss says staffers 'love zero-hour contracts'
This principled view was not shared by all Labour party members though, with some airing their anger with the decision in public.
Wes Streeting, Labour MP for Ilford North, told the Sun on Sunday that such a move "smacks of a snobby attitude towards fast-food restaurants and people who work or eat at them."
"I'm exasperated that we should throw away £30,000 worth of sponsorship like this," added Streeting.
Seemingly taking aim at party leader Jeremy Corbyn, who is known to be a vegetarian, Streeting said that while "McDonald's may not be the trendy falafel bar that some people in politics like to hang out at, but it's enjoyed by families across the country."
Writing for the New Statesman, the MP wrote that while he would "like McDonald's to recognize a trade union and to pay the real (as opposed to George Osborne's) Living Wage," he says he believes this isn't the way to go about it as "these are issues that go wider than McDonald's."
Social media users didn't quite see the decision in the same light, however, with many welcoming the decision and one linking the anger from MPs as the "last remnants of Blairism."
Some Labour Party MPs were annoyed at the 2001 decision to allow McDonald's to sponsor an event at the conference.
"It turns my stomach, I don't know how low we can sink," said Labour MP John McDonnell at the time. "It just shows how out of touch the Labour leadership is with the rank and file of the movement."
John Edmonds, leader of the GMB union, also condemned the decision saying that if the company was "prepared to pay £15,000 for the privilege of a glass of warm white wine with the prime minister then it can afford to pay decent wages."
This move suggests a new era for the center-left party, after its 2014 conference was described by Vice as a "playground for corporate lobbyists."
Big brands and corporations such as Asda, Google, Facebook, and the Association of British Bookmakers were some of the 160 stands set up at the exhibition, while a "large marquee-like structure" was funded by NewsUK, the publisher owned by right-wing media mogul Rupert Murdoch.
The Conservative Party have been criticized for accepting money from companies who lobby the party. In 2015, businesses and lobbyists were able to pay £2,500 to attend the party's "business day" at their conference, reported The Guardian.
There is also a global pushback to the US brands. During President Barack Obama's recent trip to Cuba, young people who live there told the BBC that they "don't want a lot of Starbucks and McDonald's" as the island nation opens up its economy.
The last McDonald's in Bolivia closed in 2002 and President Evo Morales took his opposition to foreign fast food chains all the way to the United Nations, calling it a "threat to humanity".
"They impose their customs and their foods," he told the UN General Assembly. "They seek profit and to merely standardize food, produced on a massive scale, according to the same formula and with ingredients which cause cancers and other diseases."
Not all "anti-capitalist" politicians are boycotting big brands. The leader of Ireland's left-wing party People Before Profit, Richard Boyd Barrett, was labeled a "Starbucks Socialist" after he was captured coming out of one of its Dublin premises in 2014, despite the company's use of prison labor and tax shelters.
McDonald's is currently at the center of a European Commission investigation into possible tax deals with Luxembourg, where a 2009 ruling by the tiny country resulted in "McDonald's Europe Franchising" paying no corporation tax despite profits of more than €250 million.
READ MORE Revealed: McDonald's €1bn tax loophole
"A tax ruling that agrees to McDonald's paying no tax on their European royalties either in Luxembourg or in the US has to be looked at very carefully under EU state aid rules," said Commissioner Margrethe Vestager in December 2015. "The purpose of double-taxation treaties between countries is to avoid double taxation - not to justify double non-taxation."