Jail gays, introduce Shariah: New poll claims 'chasm' between UK Muslims & everyone else
A new ICM poll examining the attitudes of British Muslims found that a sizeable minority approves of polygamy and the application of Shariah law, while a majority believe that homosexuality should be made illegal.
READ MORE: Man charged with murder of Muslim shopkeeper in Glasgow says victim 'disrespected' Islam
"Liberal opinion in Britain has, for more than two decades, maintained that most Muslims are just like everyone else, but with more modest dress sense and more luxuriant facial hair; any differences would fade with time and contact," Trevor Philips, who commissioned the poll as part of an upcoming documentary, writes in the Sunday Times. "But thanks to the most detailed and comprehensive survey of British Muslim opinion yet conducted, we now know that just isn't how it is."
Born to a family of Caribbean immigrants, Philips is one of Britain's best-known progressive activists. He chaired the Commission for Racial Equality and its successor, the Equality and Human Rights Commission, between 2003 and 2012, and also authored a pro-Muslim report two decades ago that is credited with introducing the concept of Islamophobia into public discourse. Yet, Philips writes that he was "astonished" by the results of the survey.
"The data collected by the respected research firm ICM shows what the polling experts call 'a chasm' opening between Muslims and non-Muslims on such fundamentals as marriage, relations between men and women, schooling, freedom of expression and even the validity of violence in defense of religion. And the chasm isn't going to disappear any time soon; indeed, the gaps between Muslim and non-Muslim youngsters are nearly as large as those between their elders," wrote Philips.

Regarding attitudes towards the family, 39 percent of Muslims, regardless of gender, said that a woman should always obey her husband. In addition, 31 percent of those surveyed said that a man should be entitled to have more than one wife – a practice that is illegal in the UK. Five percent of those asked said that they sympathize with the view that women should be stoned to death for committing adultery.

Moving on to gender issues, 52 percent say that homosexuality should be outlawed in the UK, and a vast majority insists that gay marriage should be made illegal. Almost half would not be comfortable with their children being taught by a gay teacher in school.
READ MORE: 'Why are you dressed like that?' Veiled Muslim woman films verbal assault (VIDEO)
A third of Muslims say they go to a house belonging to a non-Muslim no more than once a year, and one in five say they never visit the house of a non-Muslim.

On public matters, 23 percent would prefer that their area be governed under Shariah law by an Islamic court, rather than a UK court following British laws.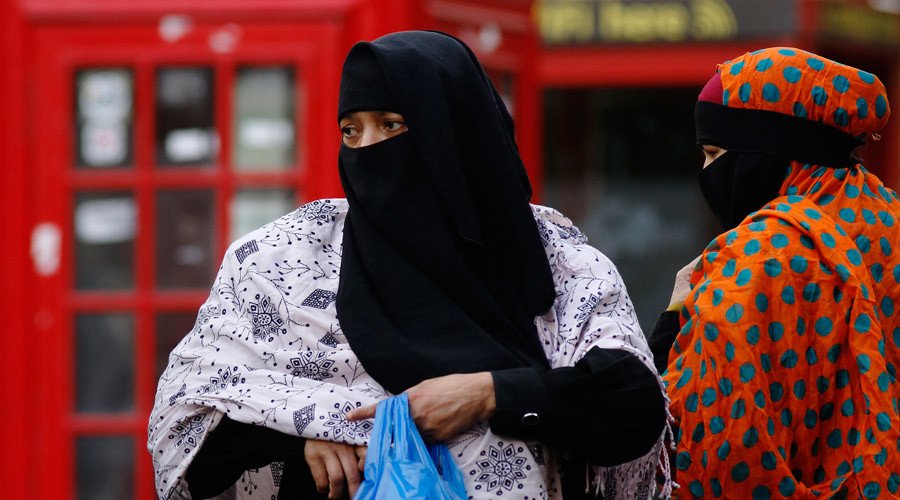 Philips blames the intellectual dishonesty of Britain's opinion-makers for the failure to create and implement a concrete plan aimed at integrating UK Muslims, as most refuse to accept that such an initiative is needed.

"Many of our (distinctly un-diverse) elite political and media classes simply refuse to acknowledge the truth. Any undesirable behaviours are attributed to poverty and alienation. Backing for violent extremism must be the fault of the Americans. Oppression of women is a cultural trait that will fade with time, nothing to do with the true face of Islam."
Meanwhile, those having the most daily contact with the UK's fast-growing Muslim minority have been shut out of the conversation, ironically being labeled with the very terms that Philips pioneered.

"Non-Muslims who live and work in areas with a large Muslim presence have been uneasily aware of the emerging differences for a long time, but many are too worried about being tagged as Islamophobes to raise the debate," writes the activist and presenter.

The poll was conducted by interviewing over 1,000 self-identifying Muslim adults from all over the Britain. The overall number of Muslims in the UK has surpassed 3 million and is expected to double by 2050.

However, not everyone agrees with the results of the poll. A prominent leader of a UK-based Muslim organization dismissed the findings in an interview with RT.

"This opinion poll that is a red herring, and Philips' whole objective is demonizing Muslims, and this exists within a wider agenda of Islamophobia. I am very disappointed," said Mohammed Shafiq of the Ramadan Foundation.
'UK needs to radically change its policies on immigration, multiculturalism'
Others have been arguing that it is the UK's immigration policy and recently adopted policy of multiculturalism that have fostered a sort of "disintegrated" society within one country.
"You have self-imposed disintegration of society, where individual societies are living in separate, isolated communities within cities up and down the UK. I blame it on the government of Tony Blair, which adopted these multicultural protocols and attempted to radically change British society," Ben Harris-Quinney, chairman of 'Bow Group' think tank, told RT. "That attempt at radical change has clearly failed."
The solution to the current problem would be to introduce immigration reforms and ask all British citizens to engage more with the society they are living in, he said.
"What the government has to do is ask a lot more of British citizens in terms of what they commit and how they engage with the society as a whole. I think we've got to radically change our immigration policy and recognize that the way we approached things over the last ten years has failed," Harris-Quinney added.
You can share this story on social media: