Britain First demo gets fly-kicked & flees London mosque after provoking scuffles (VIDEO)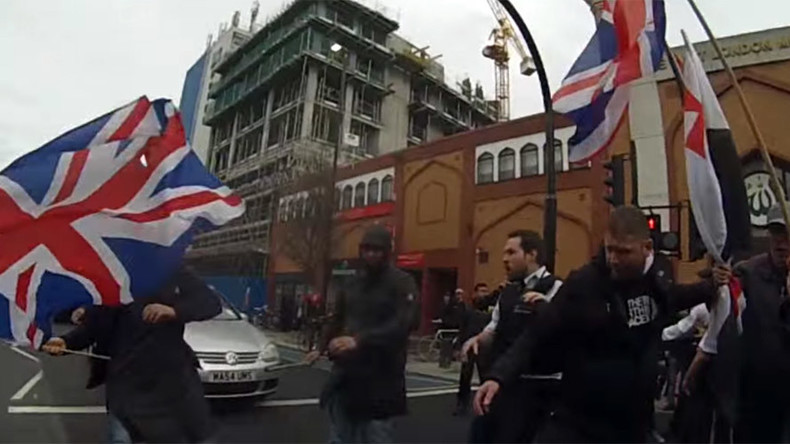 Members of the far-right Britain First group made another attempt to protest outside a Mosque in East London this weekend, but were captured on video fleeing after scuffles with locals broke out.
The protest was the nationalist group's third attempt in recent weeks to increase tensions in London's multicultural Whitechapel area.
READ MORE: Far-right Britain First stages cringe-worthy picket outside East London Mosque (VIDEO)
Photos show Britain First members holding Union Jack flags and wooden crosses outside the mosque. They also hold a big yellow banner reading "No more mosques."
In the video, worshipers from the mosque shout "get out," as the police move the protesters away. After clashing with locals, Britain First members are seen swiftly running away from the mosque, with one protester even being "fly-kicked" as he flees the scene.
The anti-migrant, anti-Islam group, known for staging "Christian patrols" and opposing what is calls the Islamisation of the UK, was quick to offer its own version of events and uploaded an edited video from the scene.
The clip's subtitles claimed that "hundreds of Muslim thugs" attacked the "peaceful, silent protest." Despite the gross exaggeration, the group did succeed in provoking some violence, as several younger Muslims became aggressive, and another became agitated while blocking the door to the mosque, frantically crying at the protesters to move away from the entrance, as he presumed the group would try to get in.
Tell MAMA, an organization that monitors anti-Muslim hate, told RT that the group is "out of touch with reality."
"Tower Hamlets is a diverse peaceful borough and the only people inflaming tensions are Britain First and far right extremists like them," said Fiyaz Mughal, the organization's director. "They intimidate mosque goers by acting menacingly and most of the people they end up intimidating are elderly mosque goers. It says a lot about the thugs that they are."
When Britain First staged an earlier protest outside the mosque in March, prominent Reverend Alan Green from the Church of England similarly condemned the group, calling it "un-Christian."
In a Twitter post, Britain First referred to today's event as a "brutal attack by Islamists in East London," but was quickly mocked by other users.
READ MORE: Britain First's 'offensive' mayoral election slogans rejected by watchdog