Far-right Britain First stages cringe-worthy picket outside East London Mosque (VIDEO)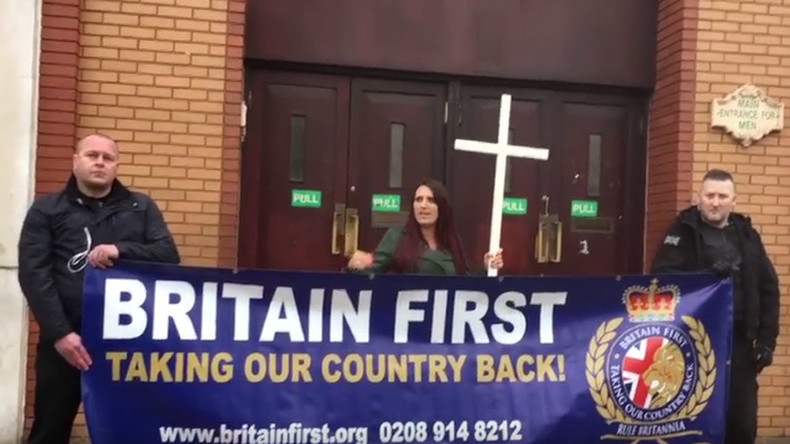 Britain First's latest 'Christian intervention' attracted no more than 10 supporters as the far-right group staged a picket outside a major mosque in East London.
Footage captured by a passerby shows a soggy protest outside the East London Mosque in Whitechapel.
The group was led by Deputy Leader Jayda Franken and arrived outside the mosque at 11am, but left shortly after police intervened.
A Britain First banner was held aloft while Franken waved a white cross in a protest that lasted only 20 minutes.
"I'm out here doing God's work peacefully. I'm saying to you 'turn away from the false prophet and embrace the savior Jesus Christ," Franken told passersby.
The deputy leader is then heard arguing with a policeman, condemning the entire force as "traitors to this country" for "turning on us."
"Is it in your job description to mock a Christian who is preaching in the street?" she asked the policeman.
A member of the mosque invited the group to come inside to talk, but the invitation was met with hostility.
"Are you happy for me to go in to your mosque with my shoes on because I'm not taking these off," said Franken.
Spokesman for the mosque Salman Farsi told the London Evening Standard that mosque staff were more concerned for a group of primary school students who were having a tour of the facility that morning.
"They were chanting 'We want our country back.' It was a bit worrying for us because we had a school group on a tour inside the mosque," said Farsi.
Mosque staff tried to prevent the situation from escalating.
"There was a moment when they were provoking passersby and someone confronted them and spat in their direction, so mosque staff stepped in to move them along," Farsi added.