Arrests made after clashes at far-right and anti-fascist rallies in Dover (VIDEO)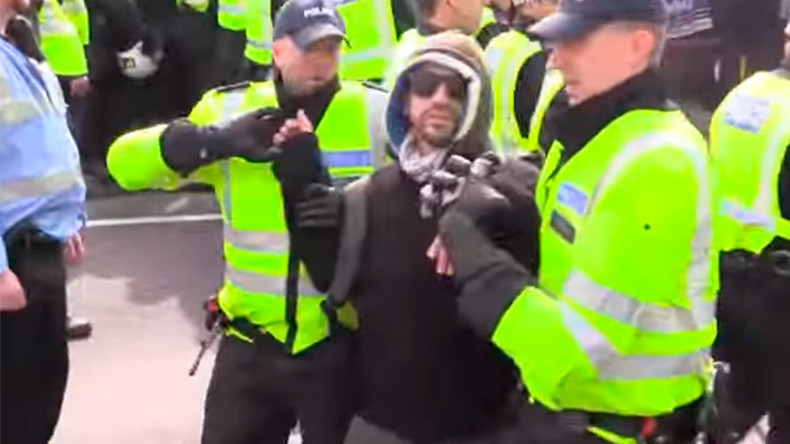 Arrests have been made in the port of Dover, in the south east of the UK, following clashes between far-right anti-refugee groups and anti-fascist demonstrators who rallied concurrently to oppose the anti-refugee rally.
Hundreds of police, many wearing riot gear had positioned themselves at the scene in an effort to avoid the violence that took place at a similar rally in January.
READ MORE: 9 arrested amid clashes between far-right 'infidels' and anti-fascist protesters in Dover (VIDEO)

The far-right marchers shouted "No more refugees" and other slogans as they made their way through the streets of Kent.
A European flag was burned by the protesters, who shouted "out, out," referring to the potential Brexit.
East Kent Alliance and Kent National Front were among the far-right groups in attendance.
The anti-fascist demonstrators carried signs reading, "refugees welcome". The Kent Anti-Racism Network was one of the anti-fascist groups protesting. A London to Calais aid convoy set off from Market Square to deliver supplies to the refugee camp.
The anti-fascist protesters attempted to block the route of the far-right march. Police stood between both groups as tensions flared, allowing the anti-refugee marchers to pass.
Eight anti-fascists were arrested for failing to comply with the conditions of the right to assembly, according to Libcom.org.
Thirteen arrests were made in total, according to the Kent police. Three were wanted in connection with the January clashes.
A local politician tweeted his disgust at the anti-fascists for blocking the street.