Brexiteers tell Obama to let Britain decide its own fate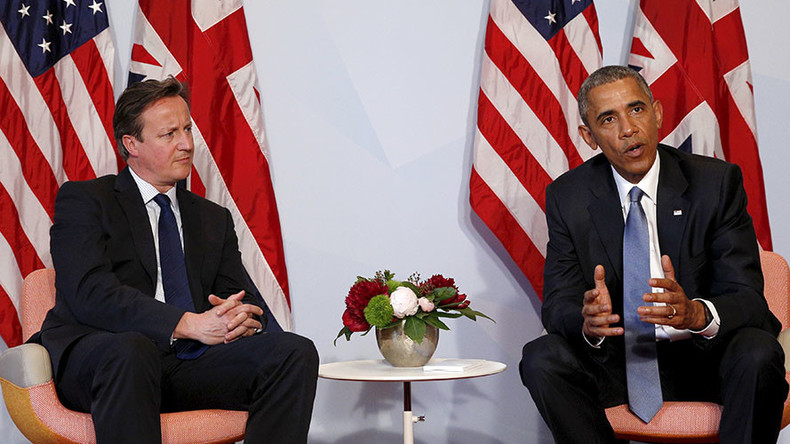 Pro-Brexit campaigners have urged Barack Obama to stay out of the EU debate after rumors the US president would use an April visit to the UK to urge Britons not to leave the Union.
In a strongly-worded open letter to Obama, the cross party group suggested he should keep even "passive diplomatic recommendations" to himself and leave it up to the British people to decide their own fate.
"With so much at stake, it is imperative that the question of exiting the European Union is not one answered by foreign politicians or outside interests, but rather by the British people who must ultimately live with change or the status quo," the letter said.
"Interfering in our debate over national sovereignty would be an unfortunate milestone at the end of your term as president."
An initiative of the Leave.EU and Out Brexit campaigns, the letter was signed by UKIP leader Nigel Farage, Labour MPs Kelvin Hopkins and Kate Hoey, Tories Tom Pursglove and Peter Bone, and the DUP's Sammy Wilson.
Previously, form London Mayor Boris Johnson, one of the most prominent and outspoken campaigners for a Brexit, dismissed Obama's claim the UK would be weaker on the world stage outside the EU as "outrageous" and "wholly fallacious."
READ MORE: 52% of Britons support Brexit – poll
In his weekly column for the Telegraph, Johnson accused Obama of "hypocrisy."
"Can you imagine the Americans submitting their democracy to the kind of regime that we have in the EU?"
House of Commons leader Chris Grayling also warned Obama against intervening.
"I would discourage any foreign leader from entering the debate at the moment. This is a matter for the British people and it should remain so," he said.
You can share this story on social media: