52% of Britons support Brexit – poll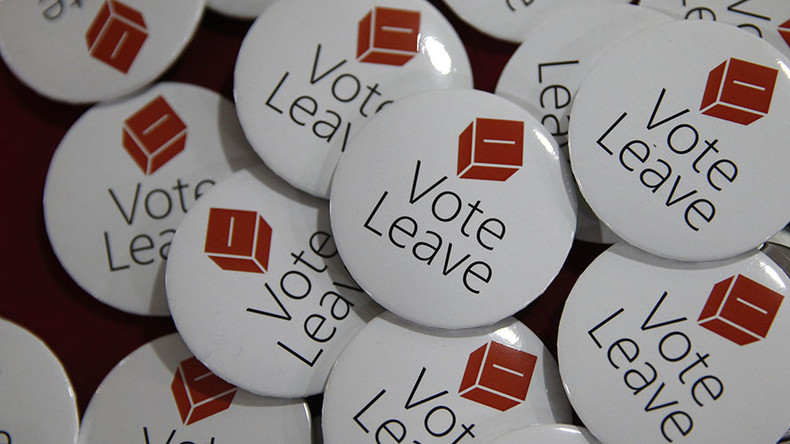 A new poll conducted by ORB shows a narrow lead for Brexit campaigners, as the majority of the public lean toward leaving the European Union.
The survey, commissioned by the Daily Telegraph, found that 52 percent of Brits back a Brexit while 45 percent support remaining in the EU.
Some 3 percent of voters are still undecided about how to vote in the referendum, which will be held in just under 100 days, on June 23.
ORB published their results based on "likely voters," after asking those polled if they intend to vote in the upcoming plebiscite.
When the pollsters asked people how likely they were to vote, only 72 percent who said they planned to vote to stay in the EU said they were certain they will vote.
In contrast, 79 percent of 'Out' voters said they were certain they would go to the polling station.
ORB took this discrepancy in voting intention into account, giving the 'Out' campaign a 7 percent lead.
The survey's results suggest pro-Brexit campaigners are more motivated to vote because they are more convinced their vote will matter.
The findings will alarm those in the Remain camp, who will need to motivate already-convinced voters to back the campaign and also sway undecided voters.
ORB asked 823 potential voters over the period of March 11-14.
Polls by regional newspapers across the country have also weighed in favor of leaving the EU, with a recent survey by the Wolverhampton-based Express & Star showing that 80 percent would vote for Brexit.
Just 16 percent of readers said they would vote to Remain, while 4 percent are undecided. The poll was self-selecting and run on the newspaper's website.
Express & Star editor Keith Harrison told HoldTheFrontPage: "These results reflect the biggest response we have ever had to a political poll and I am sure that politicians on both sides of the debate will sit up and take note."