London rally condemns Turkey's 'war on Kurds', UK media silence (PHOTOS, VIDEO)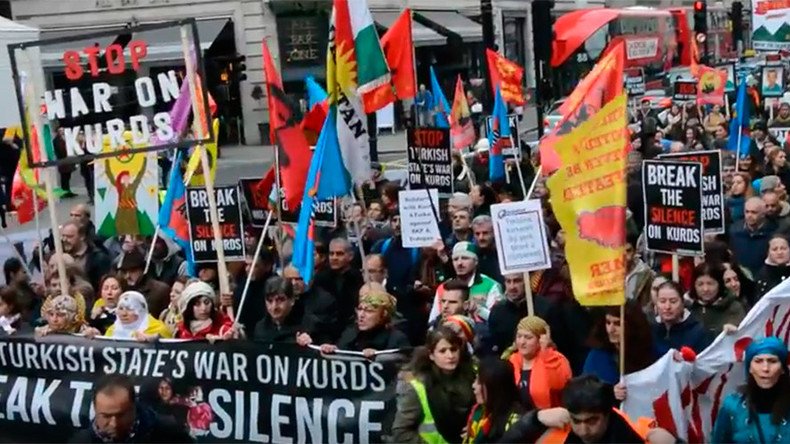 Thousands of protesters have taken to the streets of Britain's capital to express their indignation with the Ankara's military operation against the Kurdistan Workers' Party (PKK) which heaps suffering on the Kurdish minority both in Turkey and beyond its borders.
The protest, organized by an activist group known as Stop War on Kurds, took place in central London on Sunday. People gathered at BBC Broadcasting House and then left for Trafalgar Square to start the rally.
The crowd was a mixture of both Kurds and non-Kurdish supporters.
People were seen carrying banners that read "Stop Turkish State's War on Kurds", "Break the Silence on Kurds" and "ISIS Made in Turkey."
The protest action was triggered by the Turkish crackdown on the Kurdish minority which participants said goes "unreported in the UK press." The group is "demanding the UK govt puts pressure on Turkey to stop these attacks," a statement on the Stop War on Kurds Facebook page said.
Protesters also called for the UK government to criminalize the Kurdish Liberation Movement since it "creates serious barriers and difficulties in the search for a peaceful, political settlement."
The action was called by the Kurdistan National Congress in the UK, the Peace in Kurdistan and London Kurdish Solidarity movements.
READ MORE: Turkish police tear-gas Kurds protesting crackdown in country's southeast
The Kurds are Turkey's largest ethnic minority group, inhabiting its eastern and southeastern territories, known as Northern Kurdistan. However, they are stateless.
The Turkish government is currently conducting a military campaign against the Kurdistan Workers' Party (PKK) which has been struggling for autonomy since 1984, and is considered a terrorist organization by Ankara. Last August, blaming PPK for a series of terror acts in Turkey, Ankara the ground operation, which ended a two-year truce with the Kurdish militants.
Since the start of the security forces operation, Turkish troops have imposed dozens of curfews in Kurdish regions, disrupting the lives of some 1.4 million people, the Human Rights Foundation of Turkey (HRFT) said. According to human rights groups, battles in Turkey's southeast have already claimed around 200 civilian lives.
At the same time Turkish forces have been shelling Kurdish People's Protection Units (YPG) across the border in Syria, which Ankara considers a terrorist organization with close ties to PPK, since mid-February.
READ MORE: Turkey keeps shelling Kurds, backing terrorist groups in Syria – Russian MoD
The bombings of YPG targets, the military wing of the Democratic Union Party (PYD), have been underway despite even the US, Ankara's ally, viewing the Kurdish fighters as a vital partner in fighting Islamic State (IS, formerly ISIS/ISIL) in Syria.
You can share this story on social media: