Turkey keeps shelling Kurds, backing terrorist groups in Syria – Russian MoD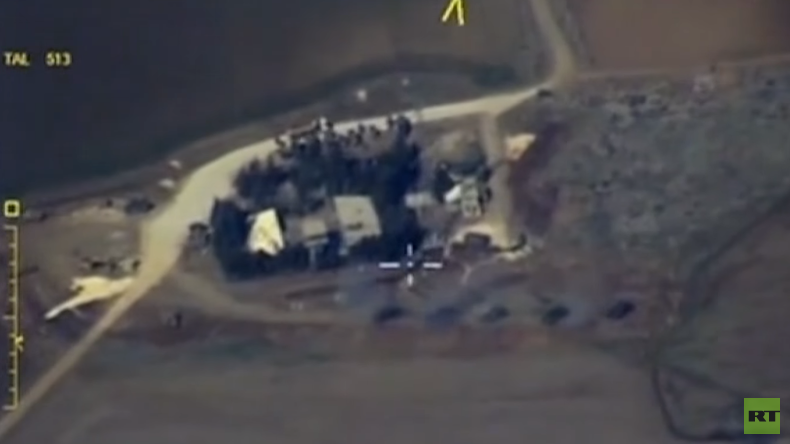 Turkey continues to shell Kurdish forces in Syria, hampering their operations against Al-Nusra terrorists, and at the same time funneling supplies to the militant-controlled areas at the border, Russia's Defense Ministry reported.
Ankara bears responsibility for the ongoing ceasefire violations in the Syrian provinces of Idlib and Aleppo, the head of the Russian ceasefire monitoring center Lt. Gen. Sergey Kuralenko told journalists at a briefing on March 4.
Militants continue to freely cross the Turkish-Syrian border, Kuralenko noted, presenting the latest reconnaissance video featuring a "large terrorist unit in a forested border area."
Another video depicted Turkish artillery in a border garrison near the Yanankey settlement targeting Kurdish positions in Syria.
"Artillery shelling of Kurdish militia units, fighting against Nusra Front, continues from the territory of a Turkish border post near Yanankey," Kuralenko said.
#SYRIA Truck columns with supplies and weapons are moving to controlled by Jabhat al-Nusra and Ahrar al-Sham regions almost day-and-night

— Минобороны России (@mod_russia) March 4, 2016
Lt. Gen. also noted that in footage captured by an RT crew who traveled with the Kurdish YPG force in the area, Turkish trucks crossed the Turkish-Syrian border, according to Kuralenko. He said they are carrying supplies and arms exclusively to the territories controlled by Al-Nusra Front and Ahrar ash-Sham terrorist groups.
Turkish activities in the region are undermining the ceasefire and crippling the efforts aimed at launching the inter-Syrian dialogue and bringing peace to Syria, the defense ministry spokesman reiterated.
The ceasefire regime in Syria is being monitored and promoted via special centers set up in Moscow, Washington, Amman and Latakia and Geneva to collect and review information. The Russian center has registered 27 breaches of the ceasefire regime over the last 24 hours, with most of them – eight breaches – occurring in Aleppo, the Defense Ministry reported on Friday. The province of Idlib has seen a total of 7 violations, Damascus and Homs – 4 in each, Daraa – 3, Latakia – 1.
Besides Damascus, almost 100 various armed groups operating in Syria, alongside different regional and international interested parties, have agreed to take part in ceasefire, according to UN Syria special envoy Staffan de Mistura. The groups that don't obey the ceasefire, including but not limited to ISIS and Al-Nusra, are considered terrorists.
#SYRIA Support by Turkish party of terrorist groupings in #ALEPPO and #IDLIB sets back early truce achieving in these regions

— Минобороны России (@mod_russia) March 4, 2016
Five more commanders of so-called Syria's moderate opposition groups agreed to take part in the ceasefire along with the elders of two settlements in the province of Homs just recently, according to the ministry's statement. Leaders of four other groups may soon join the agreement.
READ MORE: Syria ceasefire non-binding if threat to Turkey's security – PM Davutoglu
The nationwide ceasefire was implemented on February, 27 at midnight Damascus time. Outlined by the co-chairs of the ISSG (the International Syrian Support Group) US and Russia, it was supported by the United Nations Security Council and is abiding to all parties involved in the conflict. The exceptions are Islamic State group (IS, formely ISIS/ISIL), Al-Nusra, and "other terrorist organizations" as designated by the UN Security Council.
You can share this story on social media: