Can't take a joke? Tories uphold ban on parliamentary footage used as satire
Published time: 3 Mar, 2016 16:46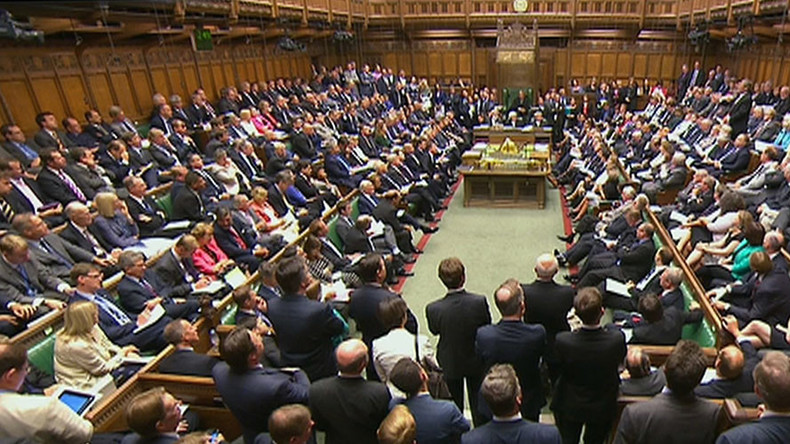 Calls by popular broadcaster and writer Charlie Brooker through his MP to rescind the ban on satirizing parliamentary footage were dismissed by Tory House of Commons leader Chris Grayling. 
Under rules in place since Parliament first began to allow cameras to record its proceedings in 1989, no footage may be used in "comedy shows or other light entertainment such as political satire" in order to "protect the dignity of the House."
Grayling was asked by Labour MP Ruqa Huq, at the behest of her constituent and brother-in-law Charlie Brooker, about the revisiting discussion of the categorical ban.
Huq said: "My constituent Charlie Brooker has raised with me that he … is unable to use it in his program, Screenwipe – whereas other not dissimilar broadcasts are allowed to use it."
Brooker, best known as the creator and co-writer of the dystopian drama Black Mirror, has also hosted a number of satirical news shows, including Screenwipe and Newswipe.
READ MORE: Saved from the chop: MPs insist on preserving archaic tradition of printing laws on calfskin
Huq expressed concern about the blurry boundaries between types of programs that are allowed to use parliamentary footage and those that are not.
"It depends whether it's satire, light entertainment, or factual. Given how vague these boundaries are and the fact that these rules were dreamed up some 27 years ago, would he [Grayling] agree with me it's a good juncture to revisit this and give a statement?"
Grayling replied: "If it's a matter of concern to her, she should put a submission to the administration committee."
"I think it's very important that we make sure the coverage of this House is used in an appropriate way – I am not in favor of it being used for satire programs."
The archaic regulation last made headlines back in 2011 when an episode of Jon Stewart's beloved Daily Show was banned in the UK for including clips from the House of Commons. Channel 4 explained that they were unable to show the clip because it would mean "broadcasting parliamentary proceedings in a comedic or satirical context."