Saved from the chop: MPs insist on preserving archaic tradition of printing laws on calfskin
Published time: 15 Feb, 2016 16:50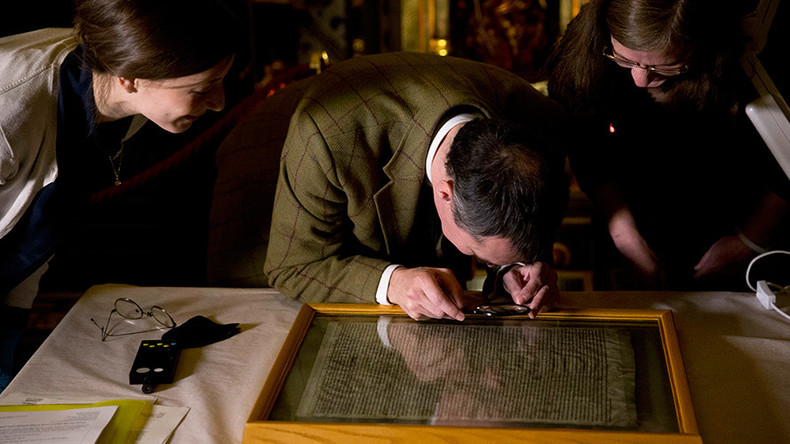 The government is considering reversing a decision to end the 1,000-year-old practice of printing laws on paper made of goat and calf skin, known as vellum, after the Cabinet Office offered to pick up the tab for carrying on with the tradition.
Last week, the House of Lords signaled that the government was to bring the practice to end and switch from vellum parchment to archival paper, saving some £80,000 (US$115,000) a year.
Cost of refurbishing Parliament: £500,000,000 a year

Savings from stopping the use of vellum in Parliament: £80,000 a year

— Tom Williams (@tomwilliamsisme) February 9, 2016
However, following an outcry from MPs eager to preserve the use of vellum, Cabinet minister Matt Hancock told the Daily Telegraph that his department was prepared to shoulder the costs of pressing on with the tradition.
"While the world around us constantly changes, we should safeguard some of our great traditions and not let the use of vellum die out," he said.
A spokesperson for the Lords said that as of yet no official offer has been made from Cabinet, but that the peers would take the offer into consideration when making their final decision about whether to press on with the practice, which dates back to the Magna Carta.
Arrangements for printing Acts of Parliament (and cost) are a matter for the Lords so not much MPs can do about the vellum decision

— PARLY (@ParlyApp) February 9, 2016
#r4today once again the public purse will pay to keep parliament in the 17thc. All for respecting history but are vellum docs necessary ?

— DinoGreycat (@dinogreycat) February 15, 2016
"If the Cabinet Office write offering to take on the responsibility for printing acts of Parliament on vellum, it would of course be considered. As of yet, that offer has not been made," a spokesperson said.

All of Parliament's legislation to date has printed on vellum, with the oldest vellum law in its archives dating back to 1497, and even older copies of surviving documents, including the 1215 Magna Carta.
The House of Lords decided to scrap the practice back in 1999, but was blocked by the Commons.