Deepcut army recruit 'ordered' to have sex with fellow soldier, inquest hears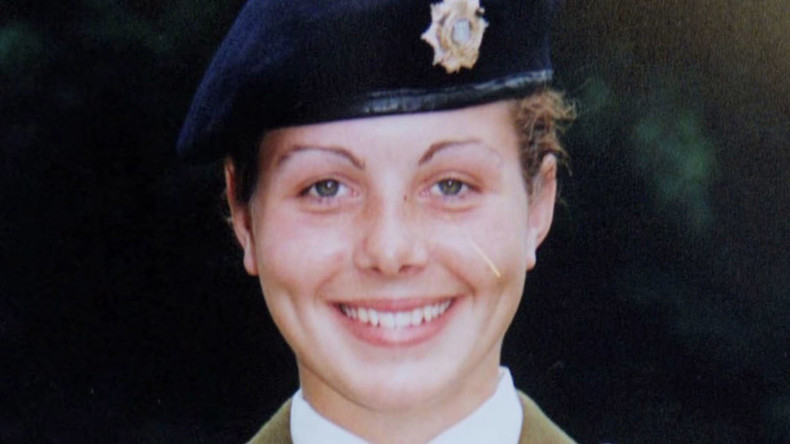 A young female trainee was ordered by a sergeant to have sex with a fellow recruit the night before she was discovered shot dead in Britain's controversial Deepcut barracks, an inquest has heard.
Mark Beards, one of Private Cheryl James' contemporaries at the training camp, was branded a liar by Ministry of Defence (MoD) lawyers on Thursday as he gave evidence at the inquest into the young woman's 1995 death.
The inquest, which began after a 20-year-old verdict was quashed, is the second to be conducted concerning the case. The original hearing lasted just one hour, and failed to address key files that were later found in the possession of Surrey Police.
The reopened investigation focuses on the case of 18-year-old Private James, who was the second of four recruits found dead at the Surrey facility between 1995 and 2002.
Beards, who was James' fellow squaddie, told Woking Coroner's Court that the young woman had confided in him that she had been ordered to go to a specific room in the barracks to sleep with another recruit named Private Ian Atkinson. He said James informed him that the order had come from Sergeant Andrew Gavaghan.
Beards said that when he saw James he asked her what she was doing and she told him she had to meet with Atkinson.
"I asked her why she had to meet Aki and she explained to me she had to go into the room with him," he told the court.
"She said, 'I've got to do it. Gav [Sgt Andrew Gavaghan] ordered it. Don't get involved. You'll get hurt.' The next morning she was dead," he added.
Lawyers representing the MoD attacked Beards' claims as he gave evidence.
Speaking on behalf of the MoD, Nicholas Moss QC said: "[Mr Beards] said the papers called him but later admitted he lied and that he had contacted them. He went to the papers for some financial gain."
Francesca Whitelaw, also representing the MoD, added: "You were the one who made the leap that she was ordered to have sex. I'm going to suggest that's a complete fabrication by you."
Beard conceded James had not used the word sex in her explanation for going to the room to meet Private Atkinson as allegedly ordered by Gavaghan, but that it had been clear what she meant.
He said he would take a lie detector test if required.
Atkinson himself then took to the stand and denied that anything beyond a drunk kiss on an earlier occasion had occurred between him and the deceased young woman.
"We kissed – that was it. It never went any further. It was just a kiss. It was a week or two before the death of Cheryl," he said.
"We had been down the Naafi, down the bar. We had a drink and all that but it never went any further."
Atkinson told the court he could not understand why Beards would say such a thing and added that they "were not best friends by any means" and that Atkinson was "fairly new" at the time of James' death.
During the court hearing, it was also alleged that a sergeant major told a grieving recruit to lie during the first inquest and claim that James had been happy in the army.
Helen Miller, a friend of James at the time, said a senior non-commissioned officer had told her: "You said you would tell the truth about it... who the f**k do you think you are? You will do what you have been told or you will not go to the funeral."
However, Miller insisted that James had been unhappy in the army and was considering going absent without leave (AWOL).
"She didn't care about the Army and I don't think she felt the Army cared about her," she told the court.
The inquest continues.