HSBC abandons move to Hong Kong as Asian markets tumble
Published time: 15 Feb, 2016 11:48
Edited time: 15 Feb, 2016 12:30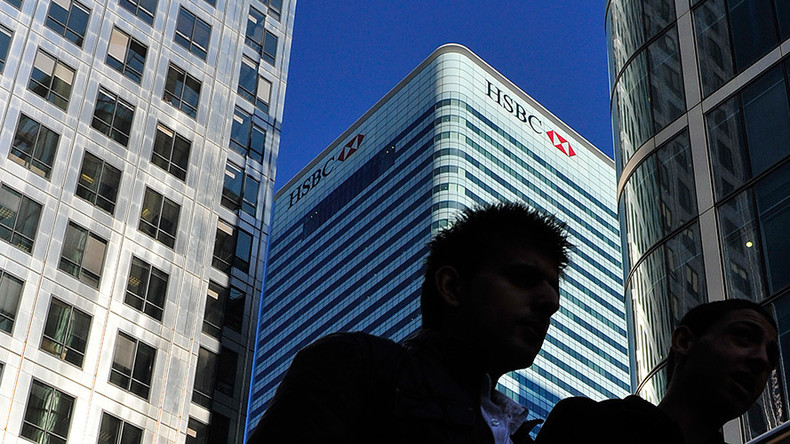 Global banking giant HSBC will keep its headquarters in London after shunning a possible move to Hong Kong and concluding a 10-month review into possible relocation.
In a statement Monday, Stuart Gulliver, HSBC's chief executive, said: "Having our headquarters in the UK and our significant business in Asia Pacific delivers the best of both worlds to our stakeholders."
The bank also said it would no longer undergo the process of reviewing its headquarters every three years. In a statement, the bank did not disclose a list of alternative locations, but said: "In the later stages of the review, the analysis was narrowed down to the group's home markets, the UK and Hong Kong, both of which are considered by the board to be world-class financial centers with high quality regulatory regimes capable of hosting a global systemically important bank such as HSBC."
The decision was announced after a week of shaky trading for markets across the globe. The Chinese market started trading after a week's holiday on Monday.
Despite having made the decision to stay in the UK, Gulliver admitted there was a "very challenging operating environment" for any bank in the current economic climate. Shares in HSBC have been trading at levels similar to 2009, when the UK economy was in a deep recession.
However, on Monday morning, Sky News reported that an estimated 1,000 UK jobs could move from London to Paris if the UK votes to leave the EU in the upcoming referendum.
During the ten month review, conditions for the bank to remain in the UK have improved, but the corporation denies forcing the government's hand to propose a reduction on the bank levy, which saw HSBC pay £1 billion to the British government.
The government announced a reduction in the bank levy after HSBC protested, but Chairman of the bank Douglas Flint said the bank and government had not negotiated on the issue.
"We had no negotiations with the government. The government was very well aware of our view, indeed of the view of many other people who commented upon it, but there certainly was no pressure put, or negotiation," he said.
In a statement about the decision to remain in London, HSBC said: "The UK is an important and globally connected economy. It has an internationally respected regulatory framework and legal system, and immense experience in handling complex international affairs. London is one of the world's leading international financial centers and home to a large pool of highly skilled international talent. It remains therefore ideally positioned to be the home base for a global financial institution such as HSBC."
The Treasury said: "[HSBC's decision to keep the HQ in the UK is] a vote of confidence in the government's economic plan, and a boost to our goal of making the UK a great place to do more business with China and the rest of Asia."