Corbyn 'naive' about Middle East, defense & ISIS – Israeli Labour leader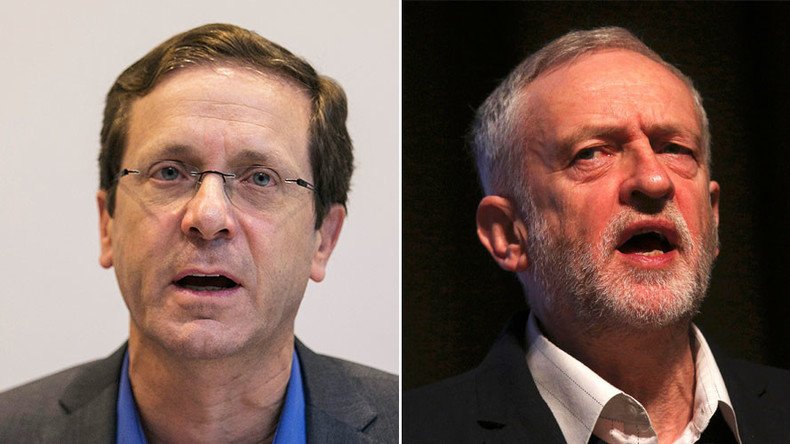 British Labour Party leader Jeremy Corbyn has an "unrealistic" approach to international relations, the Middle East and the battle against Islamic State (IS, formerly ISIS/ISIL), the head of Israel's Labour Party has said.
Isaac Herzog told the Telegraph the British Labour leader is "naive" and refused to associate himself with him as a political counterpart.
"He is not my 'fellow' Labour Party leader. He's the Labour Party leader in Britain," Herzog said, adding that Corbyn should make more effort to understand the conflicts in Israel before criticizing the country.
"I think it's a naive approach that doesn't understand the reality in the region, that doesn't understand the reality in the world.
"When one sees the ISIL phenomena, based upon the awakening of young people who are brainwashed ... one needs to understand that a naive approach against those winds that lead towards conflict is an unrealistic approach.
"Therefore clearly I beg to differ deeply with Mr Corbyn on this issue," he added.
Corbyn is a staunch advocate of a Palestinian state and opposes Israel's occupation of Palestinian territories. However, he has been criticized in Western media for making alleged comments about having "friends" in Hamas and Hezbollah.
He has also called for an arms embargo on Israel, as well as a boycott of Israeli goods made in occupied territories.
Herzog says he is the leader of Israel's "peace camp" and supports a two state solution. However, he has also said there is no chance of peace between Israel and Palestine in the foreseeable future.
The party leader is in favor of maintaining Israeli military power in the West Bank, as well as continuing to build the "separation barrier" which divides Israelis and Palestinians. The barrier is mostly built on occupied land. In 2004 the International Court of Justice ruled it illegal.
During his leadership campaign, Corbyn was forced to address claims he associated with Holocaust deniers.
The allegations, which surfaced in the Jewish Chronicle, suggested Corbyn has links to "Holocaust deniers, terrorists and some outright anti-Semites."
Quizzed about the claims by Cathy Newman on Channel 4 News, Corbyn said they were unfounded.
"Holocaust denial is vile and wrong. The Holocaust was the most vile part of our history. The Jewish people killed by the Nazi Holocaust were the people who suffered the most in the 20th century," he said.
You can share this story on social media: