Britain apologises for Kurdish protests – Turkish media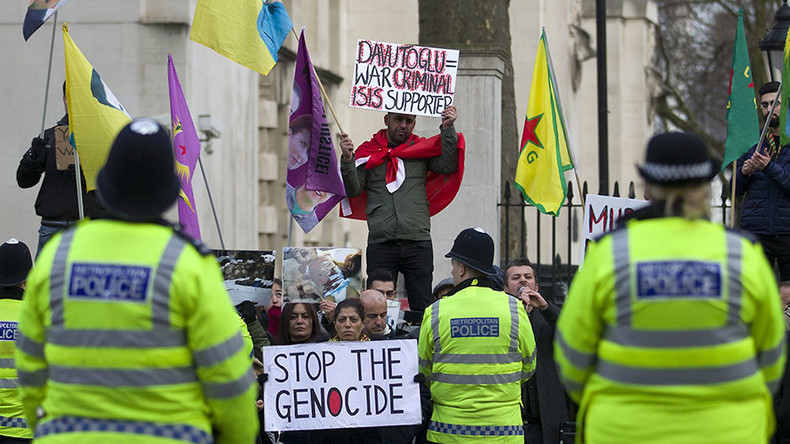 British authorities have reportedly apologised for the Kurdish protests which took place while the Turkish prime minister was visiting the UK in January, according to one Turkish media outlet.
Turkish Prime Minister Ahmet Davutoglu is on a visit to the UK and other European capitals to promote business deals and address foreign investors.
Turkey's state-run Anadolu Agency quoted anonymous prime ministerial sources as saying that Sajid Javid, the British secretary of state for business, innovation and skills, visited the Turkish prime minister in his hotel room.
The agency continues to say that Javid told Davutoglu that the protests were "unacceptable" and that the UK would take "all necessary measures" to ensure that a similar situation would not happen again.
On January 18 a group of Kurdistan Workers' Party (PKK) activists marched down Whitehall next to Downing Street and chanted pro-Kurdish messages while the prime ministers of both countries were holding talks.
The apology came later that evening, the agency reports.
Turkish authorities had previously suggested that not enough protection had been given to the meetings to ensure they were secure. During the meetings, the two prime ministers discussed deepening trade links and continuing cooperation in the areas of innovation, research and trade.
The march followed a spate of demonstrations by pro-Kurdish protestors in London. Earlier in January a group of activists occupied the Conservative Campaign Headquarters in the centre of the city to protest the government's support of Turkey.
Tension between the Kurds and Turkish authorities has escalated again in recent months as the civil war in Syria and the battle against Islamic State (IS, formerly ISIS/ISIL) continues.
Iraqi Kurdistan shares a border with Syria. Its army, the Peshmerga, has been integral in the ground war against IS.
However, Turkish authorities see fighters in the region as terrorists.
On December 19, Turkish troops killed 68 members of the PKK. They said their operation would not end "until security is established."
A ceasefire between Turkey and the PKK ended when a suicide bomber attacked a crowd of Kurdish activists taking aid to Kobani in Syria. The PKK blamed Turkey for the bomb, but the Turkish authorities said the attack was carried out by IS.
The PKK is considered to be a terrorist organisation by Turkey, the European Union and the United States.
You can share this story on social media: