Kurdish protesters occupy Conservative Campaign HQ in London (VIDEO)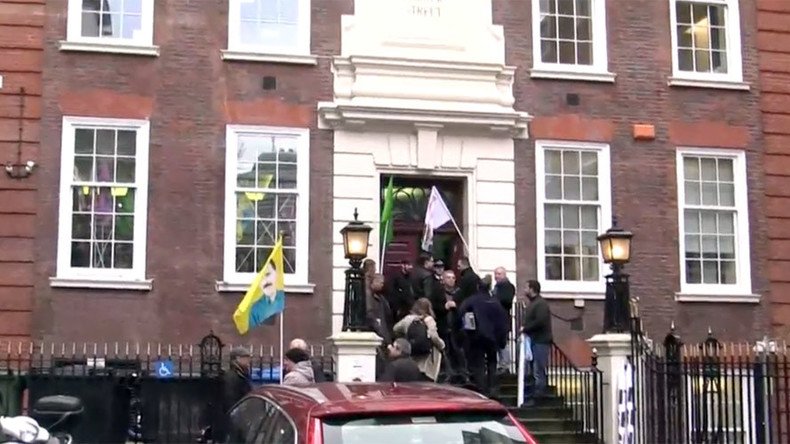 Kurdish protesters have occupied Conservative Campaign Headquarters in London to protest against the government's support of Turkey.
The activists entered the building on Tuesday afternoon and are refusing to leave the lobby. In one video from inside the building shouts of "wake up Cameron" and "stop the genocide" can be heard.
Tension between the Kurds and Turkish authorities have escalated again in recent months as the civil war in Syria and the battle against Islamic State (IS, formerly ISIS/ISIL) continues.
Kurdistan shares a border with Syria. Its army, the Peshmerga, has been integral in the ground war against IS. However, Turkish authorities see fighters in the region as terrorists.
On December 19 Turkish troops killed 68 members of the PKK. They said their operation would not end "until security is established."
The US and the EU also consider the PKK a terrorist organization. December's crackdown is the latest in the 30 year war between Turkey and the PKK.
A ceasefire ended when a suicide bomber attacked a crowd of Kurdish activists, taking aid to Kobani in Syria. The PKK blamed Turkey for the bomb, but the Turkish authorities said the attack was carried out by IS.
Britain has had a strong relationship with Turkey since Prime Minister David Cameron's state visit in 2010 when the two countries signed the Strategic Partnership, outlining wide-ranging areas of cooperation.
The states have also maintained a profitable trading partnership. The UK is one of the developed countries with which Turkey enjoys a trade surplus.
Turkey is trying to join the European Union, with more membership talks expected this year. Many European leaders, including German Chancellor Angela Merkel, are unenthusiastic about the prospect.
Turkey also hampered its progress when it shot down a Russian fighter jet which had reportedly strayed into Turkish airspace, a claim Moscow denies.
You can share this story on social media: