Young white men most disreputable group in Britain, social attitudes poll indicates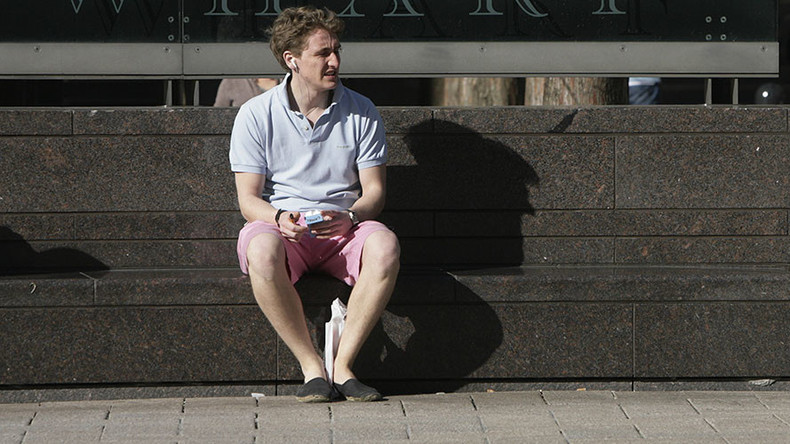 White men in their twenties are least likely to in work or be polite and are most likely to take drugs, be promiscuous and act violently, according to a YouGov poll of public attitudes.
The poll asked Britons five positive and five negative questions about 48 groups based on race, age and gender.
At the top were white women in their sixties, while loitering at the bottom were white men in their twenties.
"The people we regard as the laziest, rudest, most promiscuous, drunken drug-takers are white men in their twenties," YouGov said.
"The lousy reputation of young white men is one of the most striking things to emerge from our surveys."
"When we look at individual characteristics, white men in their 20s have the worst reputation, out of all 48 groups, for drunkenness, sleeping around, hard work and politeness," the polling firm added.
A political component was suggested in the findings.
Despite heightened tensions over immigration and the EU, Polish-born men in their twenties were not as poorly viewed as native-born white men in the same age bracket for hard work, politeness and helping others.
YouGov stressed the findings dealt with perceptions only, but said that even if the Polish/British disparity was "a myth," it was one "that seems to have put down deep roots."
A further political element was found in the perceptions of UKIP voters, who are noted for their concern over people of non-native extraction.
"People who voted UKIP in May tend to be far more critical of Polish, Pakistani, Muslim and black Caribbean people than Jewish, Chinese, white or Australian people, on virtually every characteristic – including intelligence," YouGov said.
"Many UKIP voters would doubtless argue that their views are more honest and realistic than those held by the rest of us," the pollster added.
The last finding is in line with another YouGov study from earlier in 2015, which suggested the charges of self-righteousness often leveled at leftists are actually truer of conservatives like UKIP voters.
While lefties are often accused of brandishing their moral superiority, the study appeared to flip that claim on its head.
"This turns out not to be true," data journalist Will Dahlgreen wrote on the YouGov website at the time. The findings indicate it is "those on the right who are more likely to believe they are morally superior."
Some 47 percent of people who consider themselves to be right-wing or right-of-center claim that they are a better caliber of person than the average Briton, while 43 percent say they are at least as good.
Significantly, fewer lefties think they are better than everyone else, with a humble 39 percent thinking they are better than the average Briton and 51 percent thinking they are about as good as others.
You can share this story on social media: