Cameron to order RAF airstrikes against ISIS leadership in Syria – media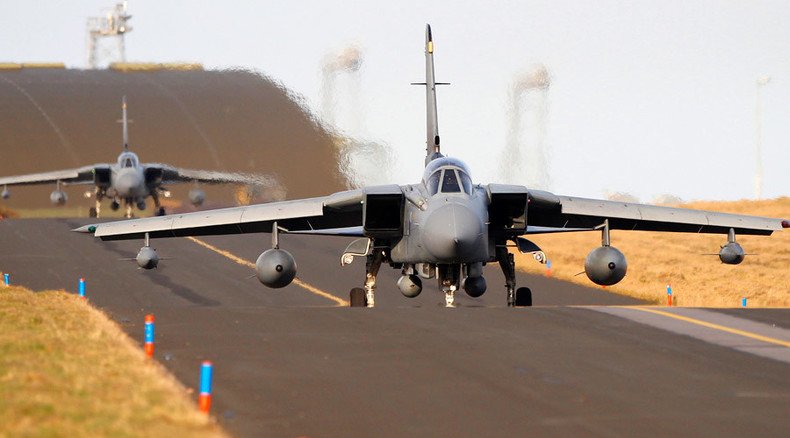 UK Prime Minister David Cameron will order Britain's Royal Air Force to "decapitate" Islamic State leaders in Syria providing other MPs back his decision to extend the country's anti-terror bombing campaign, according to a media report.
Military commanders have been instructed by the PM to use precision strikes to target Islamic State (IS, formerly ISIS/ISIL) top militants, in particular a Syrian preacher Sheikh Abu Muhammad al-Adnani, who is the head of the terrorist group's "international attacks" unit, The Sunday Times reported.
The IS chief will top the UK's "kill list," as his unit is believed to have masterminded the Paris attacks and is now targeting Britain, the publication said, adding that UK's military aerial campaign – should it be expanded to Syria – will also target "other ISIS command hideouts in Raqqa, the group's self-proclaimed capital, in a bid to destroy what Cameron calls the 'snake's head' of the terror organisation."
READ MORE: Cameron rules out British ground troops in case for Syria airstrikes
Speaking at the Commonwealth Heads of Government Meeting (CHOGM) in Malta, David Cameron called on other politicians to support the decision in the upcoming vote, saying that "when the choice comes, people will indicate that this is the right thing for Britain to do. It is, and we should do it."
"It has been working in Iraq, where we have shrunk the territory of ISIL, and it will work too in Syria," the PM added, saying that his country "can't wait for [a] political solution" and members of government "have to start acting now" in order to keep British people and "others in Europe safe."
Ahead of the vote on expanding the UK's air operation against IS, British Defence Secretary Michael Fallon also called for preventive airstrikes on terrorists in Syria, saying that terror attacks similar to those in Paris and Brussels could "easily happen" in London.
In an exclusive interview with the Telegraph, Britain's Defence Secretary said: "The threat to the UK is extremely high. An attack is highly likely so we have to respond."
"What happened in Paris and Brussels could easily happen in London," Fallon said, adding that it could as well be Manchester or Glasgow.
The defence secretary urged against pulling punches against IS terrorists. "These aren't people you can negotiate with. You can only deal with them by force," he said.
The Royal Air Force (RAF) is already "making a difference in Iraq," Fallon said, adding "we need to hit ISIL harder and deal with this death cult once and for all."
The defence secretary's interview comes a day after "Don't Bomb Syria" mass protests in London, where thousands of protesters took to the streets to make their voices heard in a rally organised by the Stop the War coalition.
Prime Minister David Cameron has been planning to bomb Syria for months now, but it is Labour leader Jeremy Corbyn who might steal the PM's thunder.
Corbyn has been opposing the Tory's initiative to refocus Britain's effort in the US-led anti-Islamic State coalition from Iraq to Syria, hoping to convince Labour MPs to oppose the Cameron government's military adventure in a vote in the Commons next week. However, many Labour members appear to be ready to side with the government.
"I hope all MPs will weigh up the arguments. They need to keep us safe here in Britain, to respond to the United Nations resolution and to France's call for help," Fallon said in an interview.
READ MORE: RAF Reaper drone supports French anti-ISIS airstrikes in Raqqa
Earlier this week, French Defence Minister Jean-Yves Le Drian called on London to expand its air attacks against Islamic State into Syria. As of now, British warplanes are striking IS in Iraq within the framework of the US-led coalition against the terrorists.
"We need British defence capabilities to win this war. The Royal Air Force is already in action over Iraq. Its involvement over Syria would make a practical difference," the French minister wrote in an article published in the Guardian.
"It is France's hope that British forces will soon be working side by side with their French counterparts to take this fight to the very heart of ISIS," to "degrade and, ultimately, to destroy it," the minister said.
READ MORE: British military claims drones killed 305 ISIS fighters in 1yr, no civilian casualties
The RAF is, in fact, already present in Syrian airspace, in the form of Britain's MQ-9 Reaper drone. It was used to provide surveillance for a wave of French airstrikes on Raqqa in Syria, Islamic State's stronghold, in the wake of the Paris attacks, the UK Ministry of Defence says.
In Iraq, 305 Islamic State militants have been killed in UK drone strikes over the last 12 months, according to the Defence Ministry.
You can share this story on social media: