'You bet your family's life for a tan': Katie Hopkins has no sympathy for Sharm el-Sheikh Brits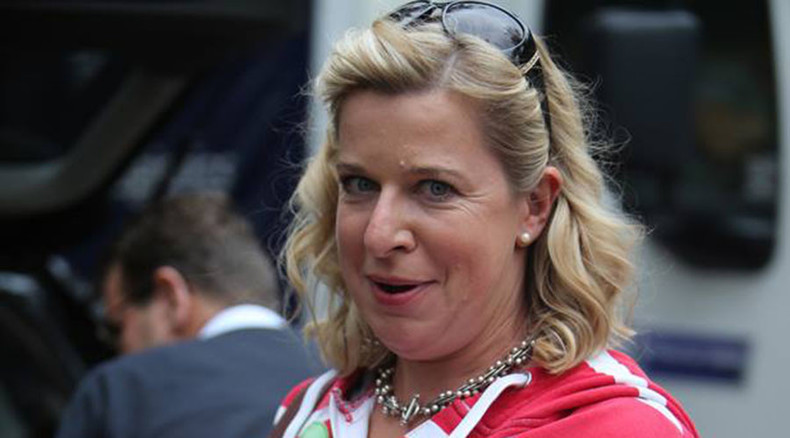 Daily Mail columnist Katie Hopkins has yet again sparked public outrage, this time by accusing British tourists stranded in Sharm el-Sheikh of "betting their family's lives on cheap tan."
The outspoken media personality said those stuck in the Egyptian resort following the Sinai air disaster should blame themselves for taking their families to a "warzone."
She said Egypt is "not a safe place to visit."
'Don't act like you're a refugee from a war-torn country'
"There is a reason that two weeks in Sharm el-Sheikh is the same price as a weekend in Wales," she told LBC radio on Sunday.
"When it comes to taking your family into a warzone, is that the time to say, 'me and my slightly overweight family from Essex, we are the ones that will fight take the good fight to [Islamic State] in our Primark bikinis?' I think possibly not.
"Don't be complaining on my television that you've been delayed at the airport, don't be complaining that you don't have any information, and don't be coming back acting like you are a refugee from a war-torn country."
Hopkins reiterated that tourists should hold themselves accountable for their "poor decisions."
"You bet your family's life for a cheap tan, you need to face the fact you're accountable to your decision making," she told the broadcaster.
In a controversial column for the Mail Online, Hopkins further added that stranded tourists should "stop complaining."
'Nowhere is 100% safe'
Critics, however, argue that terrorists from Islamic State (formerly ISIS/ISIL) should not prevent Britons from living their lives and traveling to the resort.
"Nowhere can be 100 percent safe, risks can come from anywhere, London, USA, Asia, Middle East, Africa," one Twitter user said.
"Let's also remember most importantly that innocent people/families were killed in a plane crash," another added.
Tarek Fathi, director of the Soho Square tourist area in Shark Bay, said the security situation in Sharm el-Sheikh was "completely stable" at the time of the air tragedy.
"I hope the clear, the true picture of the city of Sharm el-Sheikh through local and international media will be seen as soon as possible," he told the Mail Online.
However, some have agreed with Hopkins' comments.
"I completely agree with Katie Hopkins regarding this article in The Mail, if you understand the globe you avoid Egypt," one Twitter user said.
'Robust security measures'
The air tragedy left 224 people dead including 25 children.
Almost 20,000 Britons are stuck in Sharm el-Sheikh. However, according to British newspaper the Telegraph, 1,500 returned on emergency flights over the weekend.
READ MORE: Regional ISIS leader killed by Egyptian police in Cairo
Passengers have been facing severe delays since flights were suspended last week. British authorities claim it is "almost certain" a bomb downed the Russian passenger plane.
UK Foreign Secretary Phillip Hammond said robust security measures will be introduced to airports in regions where Islamic State terrorists are known to operate.