Election fraud committed by immigrants, claims ex-attorney general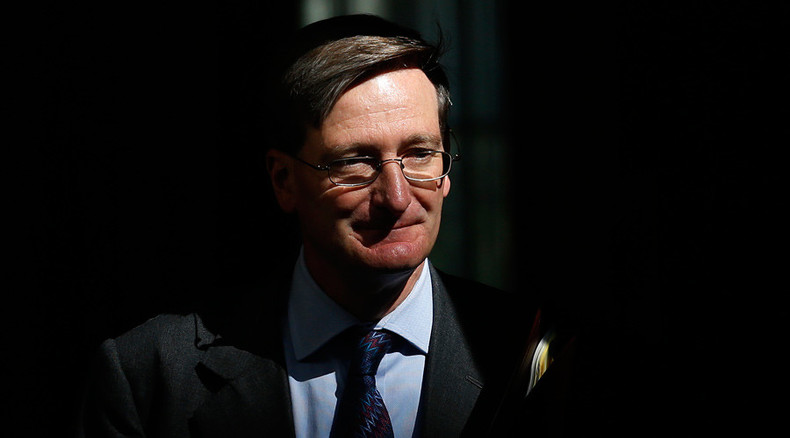 Former Attorney General Dominic Grieve has claimed election fraud is on the rise and blamed immigrants from countries "in which there is a tradition of electoral corruption and fraud" for perpetuating the practice.
Speaking at a fringe event at the Conservative Party conference on combatting extremism, the Tory MP warned of the risk posed to the Conservatives by fraud.
"The more successful the Tory party is, the more risk [corruption] will affect us and if we lay down the ground rules now we will be thanked, particularly by those people who have come from countries where I am afraid there is an endemic tradition of corruption," he said on Tuesday.
Grieve, who has recently been appointed chair of the British parliament's intelligence and security committee, proposed increasing security and controls to crackdown on voter fraud, including a thorough system of identity verification for those who want to vote by post.
"I am puzzled why there is so much resistance in the political class for these changes. I know we want to maximize the number of people who vote. I am all in favor of that. But there is no point in creating a fake participation that masquerades as the real thing," said Grieve, the MP for Beaconsfield.
However, alarmist rhetoric coupled with a simplistic understanding of the causes of electoral fraud may do more harm than good, monitoring group Democracy Audit UK suggests.
"[Fraud] occurs as a result of complex social phenomena, frequently due to the group's marginalized position in UK society, that are not reducible to a simplistic narrative of the importation of anti-democratic values," Democratic Audit researcher Carl Cullinane told RT. "While it is certain that fraud should be minimized, measures must be proportionate, and not cause more unfairness than they alleviate."
In his speech, Grieve pointed to what he called a "favors culture" as the "very root of electoral corruption."
"It is the belief that you can only by using a 'favors culture' and manipulating the system get the outcome which reflects your status as a group within a community. That is why it is so important that, as politicians in a democratic society, we should speak out against it because it is insidiously corrupting. Once you get into the habit of this, then another group will say they are disadvantaged unless they start behaving in a similar manner."
Grieve's comments come on the heels of the launch of the biggest-ever investigation into electoral fraud in the UK. In August, former Communities Secretary Sir Eric Pickles was appointed by the Conservative government to head the inquiry into corruption in response to the alleged fraud scandal involving Tower Hamlets Mayor Lutfur Rahman. Pickles, who oversaw a 37 percent cut in central government funding to local councils under the Conservative-Liberal Democrat coalition government, has criticized authorities for "turning a blind eye to criminal conduct."
But, according to Democratic Audit, "despite the concern about electoral fraud and a subsequent current government enquiry into the issue … the problem is considerably overstated in polling stations."
"Evidence from both the Democratic Audit and the Electoral Commission point towards fraud being a phenomenon that is not currently on the rise in any significant way, despite high-profile cases such as Tower Hamlets," Cullinane told RT.
"Measures to tackle voter fraud need to be balanced with encouraging wider participation in the electoral system," he added.
The group's 2015 report revealed that less than 1 percent of polling stations reported any concerns, and only around 5 percent expressed doubts about voters' identities.
It is not the first time that Grieve has made controversial allegations about electoral fraud and ethnic minorities. In 2013, when Attorney General, he came under fire for attributing corruption in public life to "minority communities" that operate a "favors culture." The top Tory specified he was referring to the Pakistani community in particular, but added that other minority communities face similar problems.
READ MORE: 'Ignoring electoral fraud just like sex abuse': Pickles launches corruption probe
"Yes, it's mainly the Pakistani community, not the Indian community. I wouldn't draw it down to one. I'd be wary of saying it's just a Pakistani problem," the MP said. Though he later apologized for the remarks, his new comments effectively repeat the same accusation.
Grieve's pronouncements at the conference echoed Home Secretary Theresa May's fiery anti-immigrant speech on Tuesday. May announced plans for asylum reform and pledged to reduce the number of immigrants claiming benefits in the UK. Speaking in Manchester, May claimed that high immigration made it impossible to build a "cohesive society." The speech has been widely criticized by business groups and universities as divisive and irresponsible.