Top Sierra Leone sprinter's UK asylum bid rejected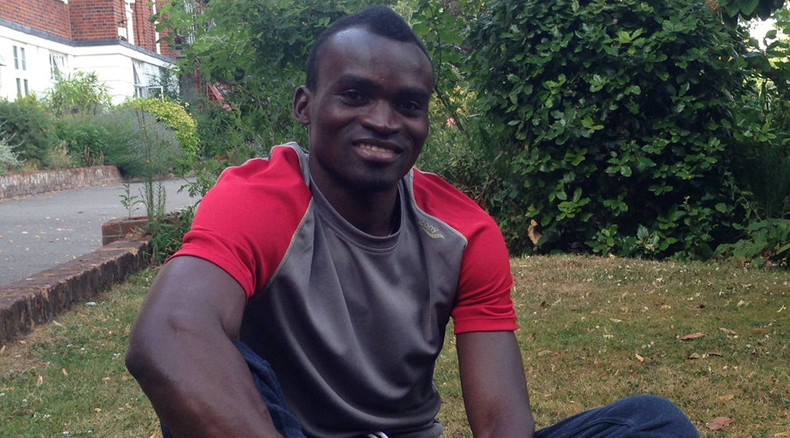 The Home Office has refused Sierra Leone star 100m sprinter Jimmy Thoronka's application to remain in the UK despite a scholarship offered to the athlete by a London university after he was found homeless in a London park this spring.
"I don't have any options. It's really hard for me to make a decision for what to do next. God is the only one that can make a decision for me," Thoronka told the Guardian.
In March, Thoronka, 21, was found sleeping in a South London park. The sprinter went missing in the summer of 2014 after competing in the Glasgow Commonwealth Games as Ebola raged in West Africa, killing nearly 4,000 people in Sierra Leone alone.
Eight members of Thoronka's family died from the virus: his adoptive mother, three of his adoptive siblings, three of his aunts and an uncle.
A spokesperson for the Home Office told the BBC: "All applications for a visa or leave to remain are considered on their individual merits and in line with the immigration rules.
"Mr Thoronka's claim did not meet the required thresholds within the immigration rules."
The Home Office has declared Thoronka's claim "clearly unfounded," which means he must return to his home country before appealing the decision. If Thoronka refuses to go back to Sierra Leone voluntarily, the Home Office can detain him and forcibly send him back. The athlete has until Monday to declare his intention to return.
After his discovery in a city park, Thoronka's struggles attracted widespread media coverage and public support. More than 75,000 people signed a Change.org petition for the athlete, and supporters raised over than £30,000.
READ MORE: Homeless Sierra Leone athlete seeks UK asylum after family killed in Ebola outbreak
The University of East London (UEL) had offered Thronoka a sports scholarship, conditional on his bid to remain in the UK being accepted by the Home Office.
UEL's deputy vice-chancellor Dusty Amroliwala told the Guardian: "We are all obviously very disappointed that the opportunity for Jimmy to study in the UK and to continue to develop as a world-class athlete has, for now, been lost.
"Jimmy's story – his struggle against huge adversity, his determination to succeed, his fortitude, all in the face of losing his family for a tragic second time in his young life – these things all marked him out as being a very special young man. He was exactly the kind of individual to whom UEL would wish to extend the hand of support and we are deeply saddened that we are no longer allowed to do so."