Homeless Sierra Leone athlete seeks UK asylum after family killed in Ebola outbreak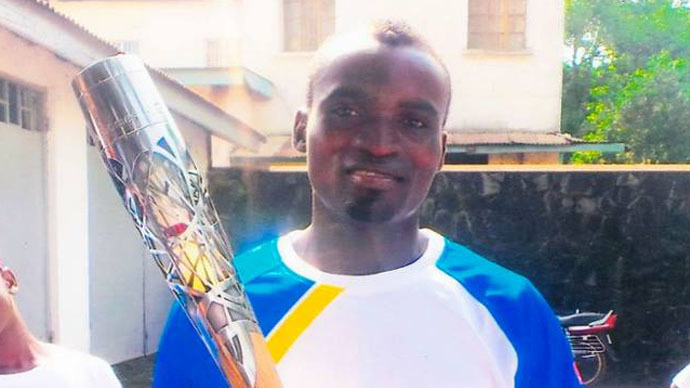 A Sierra Leonean sprinter who competed in last summer's Commonwealth Games in Glasgow is facing deportation from the UK after sleeping rough on London's streets this winter. The athlete's family perished in the Ebola outbreak.
Jimmy Thoronka, 20, was arrested last Friday for overstaying his visa. He has lodged an asylum claim with the Home Office.
He was released from custody a day later to find an online appeal supporting his case had been launched by people from across the globe. Within three days, the GoFundMe campaign had raised more than £23,000 ($34,000).
Thoronka arrived in the UK last July to run in the 4 x 100-meter relay in the Commonwealth Games. While competing last summer, Thoronka learned that his entire family had been killed in the Ebola epidemic.
"I want to stay here," Thoronka told the BBC. "Nobody [would] look after me. No one persecuted me, my problem is I don't have a family there. The person that would help me has passed [due to] Ebola. If I go back, I would not be able to make it, or I would kill myself because I would not proceed with my dream."
READ MORE: 'I just wanted to die': Asylum seeker detained at Yarl's Wood speaks to RT
Help from thousands of people poured in within days. A petition urging the Home Office to "give Jimmy the chance to start a new life and realize his huge potential as a sprinting star" has gathered nearly 60,000 signatories. Another asking for his deportation to be stopped has won 5,000 supporters so far.
"I was hoping to win a medal for my country. But during the Games I got the terrible news that my uncle had died, probably from Ebola," Thoronka told the Guardian.
"I couldn't stop crying. It was difficult to continue with competing but I tried to carry on … I wanted to go to London for a while after the Games but my bag with my money and passport in it was stolen at Glasgow station," he said.
"I was scared to go to the police in case they arrested me and put me in a cell so I begged someone at the station to pay my fare to London and they agreed to do that."
When he arrived in London, Thoronka had nowhere to stay. He slept in parks and on night buses and begged for money to buy food.
READ MORE: Ebola response 'far too slow' and cost lives – UK watchdog
Cambridge University student Richard Dent set up the appeal to help the Sierra Leonean athlete "rebuild his life and career."
Dent, who has never met Thoronka, told the BBC: "Obviously Jimmy broke his visa which wasn't great. But I believe he did this because he had a genuine fear for his life whilst under incredible stress given the loss of his family to Ebola.
"In my opinion, this is not an issue of supporting deliberate illegal immigration, this is about being humanitarians."
However, a spokeswoman for the charity Asylum Aid said she was concerned what kind of support Thoronka will receive from the British immigration system.
"The cuts to legal aid have made it a lot more difficult for refugees to get adequate information," Zoe Gardner told Reuters.
"The system is full of points where people who are more vulnerable can slip through the net and become destitute."