Labour Party Conference: Jeremy Corbyn runs gauntlet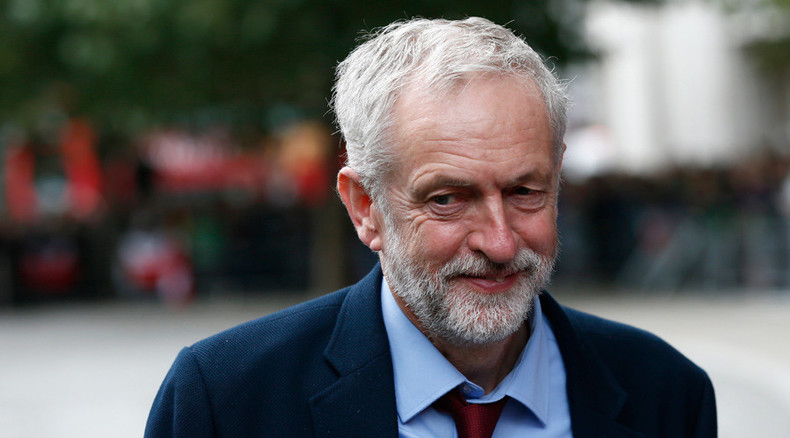 Ahead of Jeremy Corbyn's first Labour Party conference since his landslide leadership win, RT looks at the potentially-explosive issues on the agenda and assesses the state of a party at war with itself.
With trade unions demanding quicker renationalization of the railways, the party's Blairite old-guard at war with members old and new, a hostile press and a determination among the ruling Conservatives to portray Corbyn as a national security threat, the veteran socialist's first conference could be make or break.
People's railway
Throughout his campaign or the leadership, Corbyn pledged to renationalize Britain's railways, a position which has earned him considerable public support, with a recent YouGov poll showing 66 percent of Britons, including 52 percent of Tory voters, favor such a move.
His plan, however, is to wait until the existing franchises owned by private companies run their course. While trade unions have been supportive of the idea, some are now demanding Corbyn renationalize before those contracts expire by utilizing break clauses.
A motion to that effect has been put forward and will be heard at conference, which begins on Sunday in Brighton.
"The franchises should be brought back into public ownership as they expire, but to accelerate this, [Labour should think about using] break clauses within the franchises if this is in the interests of passengers," Manuel Cortes, general secretary of the Transport Salaried Staffs Association (TSSA), told the Guardian.
Train drivers union ASLEF has indicated it will back the call, with its leader Mick Whelan telling the paper it would "support any opportunity for the railways to be bought back into public ownership."
Prince of Darkness
Whatever the rate of rail renationalization, Corbyn must contend with the still-influential champions of Blairism, a creed of which he has been a long-standing opponent.
On Friday, Peter Mandelson, the Blair era's master tactician who was once branded the 'Prince of Darkness' by opponents, said Labour "cannot be elected with Corbyn as leader" while at the same time conceding it was too early to force Corbyn out.
In a private paper aimed at allies on the right of the party, but which found its way into the public sphere, Mandelson indicated it would take serious public opposition to Corbyn to see him removed.
"In choosing Corbyn instead of Ed Miliband, the general public now feel we are just putting two fingers up to them, exchanging one loser for an even worse one," he said.
"Nobody will replace him, though, until he demonstrates to the party his unelectability at the polls. In this sense, the public will decide Labour's future and it would be wrong to try and force this issue from within before the public have moved to a clear verdict," he added.
Friends of Israel
With his foreign policy views under attack from inside and outside of the party, Corbyn has chosen to address the Labour Friends of Israel (LFI) at its fringe event during the conference, where he will be accompanied by his Shadow Foreign Secretary Hilary Benn.
Corbyn has been criticized for his willingness to engage in dialogue with Hamas and Hezbollah.
Joan Ryan, chair of LFI, told the Jewish Chronicle she welcomed the long-time anti-war politician's decision to speak.
"I'm looking forward to welcoming the leader of the Labour Party and the shadow foreign secretary to this year's LFI reception. I hope this will mark the start of a conversation on how the next Labour government can best contribute to the peace process and a two-state solution," she said.
"It would be wrong to turn away. There's no reason to believe dialogue is not welcome. We have an open door and we will go through it with all our good and strong arguments," she added.
NATO & Trident
Corbyn's positions on both Trident renewal and NATO membership are also likely to be raised during the conference.
Although he appears to have acknowledged there is little appetite for Britain to withdraw from NATO for the moment, Corbyn is a lifelong anti-nuclear campaigner and may view opposition to Trident as a stronger hand. A motion will be fielded against nuclear renewal by constituency party members.
Commenting on the row which highlights the gulf between Corbyn and his party grassroots supporters on one side and the parliamentary party on the other, Benn recently argued in favor of Trident renewal.
"My view is that we need to maintain an independent nuclear deterrent," Benn told the BBC.
"I share with Jeremy the wish to see a world which is free of nuclear weapons, but I don't believe for one second that if Britain were to give up its deterrent any other of the nuclear states would give theirs up."
'Pernicious' trade union bill
While many issues will begin to be thrashed out among members at conference, Corbyn has deviated from his usual measured approach on the key issue of anti-trade union legislation by openly stamping his authority on the Labour Party.
"United, Labour will vote against this anti-democratic attack on trade union members," he said recently, arguing that "trade unions are a force for good – a force for a more equal society."
Corby has also called the bill "pernicious," and said it is nothing more than an attack on workers' rights.
The conference seems set to be an explosive affair in which a newly swollen left-wing membership and a leader in debt to the newcomers for his position are likely to collide with a parliamentary party which remains emotionally and politically attached to the domestic and foreign policies of Tony Blair's New Labour.
Corbyn is under immense pressure to deliver a leadership defining keynote speech and demonstrate party unity. However, he will need to navigate the fault line between a newly-swollen left-wing membership and a parliamentary party which remains emotionally and politically attached to the domestic and foreign policies of Tony Blair's New Labour.