Cabbie protest shuts down London Mayor's Q&A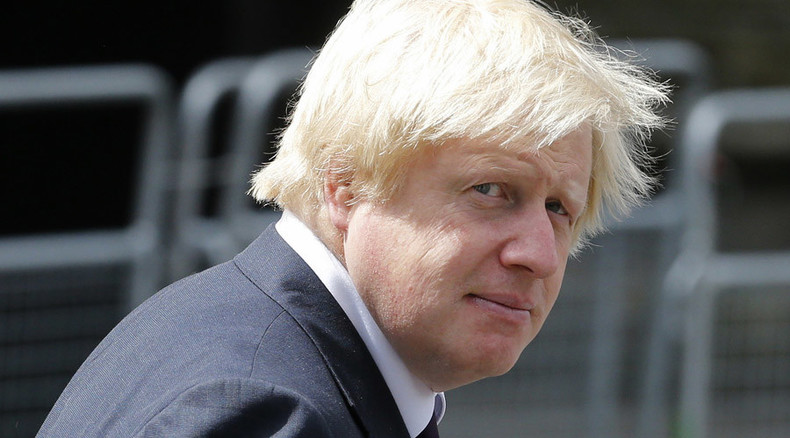 A public meeting with London Mayor Boris Johnson was temporarily shut down after cab drivers started shouting from the gallery as Johnson chastised them for not accepting new cab technology.
When asked about the introduction of electric cabs during Question Time on Wednesday morning, Johnson responded by branding the drivers "Luddites" reluctant to accept change.
"To all the Luddites in the room who don't want to see new technology," Johnson began, before being drowned out by the raucous protest of the drivers.
London's traditional black cab drivers were at the meeting. They held banners airing their frustration with what they see as the government's failure to fairly regulate private hire cars such as Uber.
Citing an earlier warning, Assembly Deputy Chairman Tony Arbour suspended the meeting as protesters began to "whistle and jeer."
"You've been told, the meeting will be adjourned. Would you please clear these people out?" he said.
In footage of the disruption, cabbies can be heard shouting and whistling. Someone is seen throwing a stack of papers at the Assembly members.
Police were reportedly called to the scene to clear out the cab drivers after many had refused to leave. Others not initially allowed entry into City Hall, briefly stormed the building, according to London24. Outside City Hall, a security officer was reportedly knocked unconscious during the protest.
Many drivers then marched down surrounding roads and blocked traffic on Tower Bridge.
As Mayor of London, Johnson chairs Transport for London (TfL).
Labour Assembly leader Len Duvall told MayorWatch: "The mayor needs to understand that it was his name calling which in part sparked today's incident."
Duvall went on to praise City Hall staff for their management of the "high pressure situation."
The session was later reconvened in a basement room.
Although cab drivers supported Johnson in the 2008 mayoral race, they have since taken issue with his stance regarding ride-sharing apps, which they believe unlawfully undermine the cab trade.