Cameron meets Syrian refugees during Lebanon visit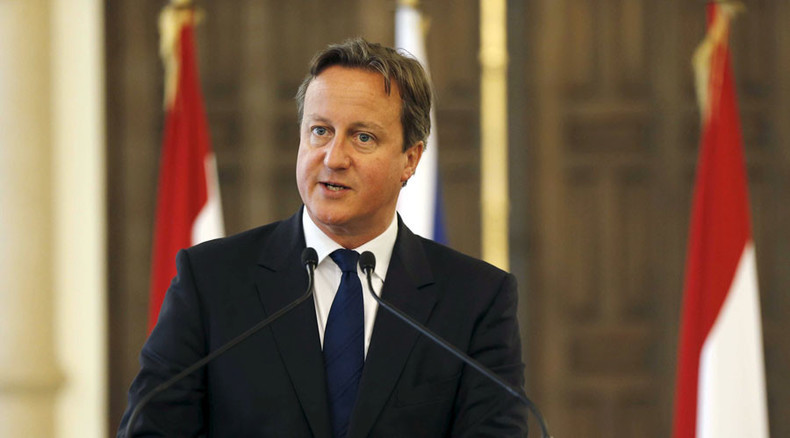 Prime Minister David Cameron has visited a refugee camp in Lebanon less than a mile from the Syrian border, as the global community continues to grapple with the refugee crisis triggered by the ongoing Syrian civil war.
"I wanted to come here to see for myself and to hear for myself stories of refugees and what they need," Cameron said after taking a Chinook helicopter to the UNHCR Bekaa valley camp on Monday morning.
The UK has been under pressure to take in more refugees as hundreds of thousands of asylum seekers fleeing the Syrian conflict flood into Europe.
Earlier this month, Cameron announced Britain would accept 20,000 refugees over the next five years. The figure has been criticized by Labour Party ministers for not going far enough. Former Foreign Secretary David Miliband noted that 4,000 refugees is the equivalent to the amount of people arriving on the beaches of the Greek island Lesbos every day.
During his visit to the Bekaa valley camp, Cameron drew attention the financial aid Britain provides for Lebanon and other countries in the region.
"Britain is already the second largest donor to refugee camps to this whole crisis, really helping in a way that many other countries aren't with serious amounts of money," he stressed.
Last week, Cameron pledged an additional £100 million in aid money. Lebanon is to receive a £29 million (US$44.7 million) share.
The PM also announced the appointment of Conservative MP Richard Harrington as a home office minister responsible for Syrian refugees, who he says will ensure a warm welcome for displaced people.
"I want to focus on how we help Syrian refugees here in Lebanon, in Jordan, how we make sure we discourage people from making this dangerous journey to Europe but instead we take people from these camps and we make them welcome in the United Kingdom, in our country," he said.
"We make sure there are homes for them to go to, schools for their children, a warm welcome in Britain."
He later met with his Lebanese counterpart Tammam Salam and stressed the UK's commitment to helping maintain stability in Lebanon.
Lebanon alone hosts more than 1.1 million Syrian refugees, the greatest number per capita of any country.
READ MORE: UK to accept up to 20,000 Syrian refugees – PM David Cameron
Meanwhile European Union interior ministers are slated to meet in Brussels Monday afternoon to discuss instating mandatory quotas to spread 160,000 asylum seekers across 23 EU states. UK Home Secretary Theresa May is expected to attend and oppose the quota system.
The UK, Ireland and Denmark are exempt from the quota plan.