Fracking could lead to 'more earthquakes in Britain' – expert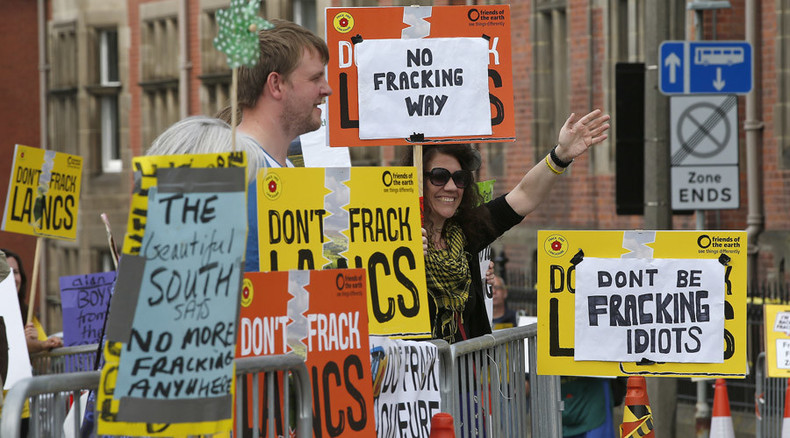 At least three man-made earthquakes occur in Britain every year according to a new study, which may prove fracking causes tremors.
The study, carried out by Researching Fracking in Europe (ReFine), found a sharp decline in the number of earthquakes since the 1980s when the coal industry was dismantled.
Over 40 earthquakes linked to human activities were reported in 1991, but as the deep coal mines closed the number of tremors fell by 95 percent.
Published in the journal Marine and Petroleum Geology on Wednesday, the study estimates there have been at least three earthquakes per year of magnitude 1.5 or above in Britain since 2000 caused by human activity such as mining, industrial explosions and geothermal energy.
These include two quakes caused by fracking in Lancashire in 2011 before a temporary ban was imposed on the practice.
Researchers from Newcastle, Durham and Keele universities analyzed 8,000 seismic events between 1970 and 2012 across Britain.
They found that around 21 percent were caused by human activity.
Lead researcher Professor Richard Davies of Newcastle University warns that fracking could increase seismic activity.
"Earthquakes triggered or induced by humans are not a new concept for us here in the UK, but earthquakes related to fracking are," Davies said.
"Understanding what the current situation is and setting a national baseline is imperative, otherwise how can we say with any confidence in the future what the impact of fracking has been nationwide?"
Davies said the national baseline, along with seismic monitoring at fracking sites, could show the impact of shale gas exploration on numbers of earthquakes.
"If widespread exploitation of the UK's shale reservoirs is granted and numbers consistently rise then, in conjunction with local monitoring data, we should be able to confidently demonstrate a causal link."
"Historically, fracking-related earthquakes have been small, but the UK is crisscrossed with faults – some of which may be critically stressed – and if triggered these could result in earthquakes that people can feel."
The Department of Energy and Climate Change said it has robust controls in place to "mitigate seismic risks."
"As recognized by this research, there are no documented cases of shale gas operations causing subsidence or earthquakes which have caused damage at the surface," the department's spokesperson said.
"We have extremely robust controls in place to mitigate seismic risks and in the unlikely event that any operations were to pose a risk, we have the powers required to close them down," the person added.