110,000 Labour supporters could be 'purged' – interim leader Harriet Harman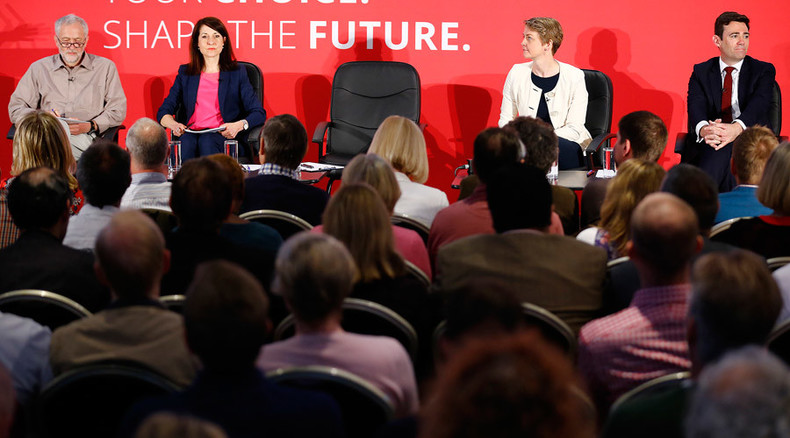 Some 110,000 supporters of the Labour Party currently registered to vote in the upcoming leadership election could be barred from taking part, interim party leader Harriet Harman has said.
To date, 3,000 registered supporters have been blocked due to fears of "entryism," but the figure could soon rise, meaning only half a million will be permitted to vote – more than 100,000 fewer than the total number registered to vote.
Speaking after meeting with the four leadership candidates at a hustings in Sunderland, Harman said the rival Tories and other individuals who had attempted to enter the ballot to sabotage the outcome were neither "funny nor clever."

Her remarks come as Labour officials revealed they are considering a new range of measures to root out any potential entryists who signed up in an attempt to block the party from winning in 2020.
Asked how many registered supporters would be allowed to vote, Harman said it would be fewer than 600,000.

"It will be fewer than 600,000. It will be over half a million," she said. "We are up to about 3,000 now but the process is under way, so we expect it to [find] more as it goes along.

"Obviously a number of people find they can't vote because they are not on the electoral register – which is in addition to those 3,000 – but about 3,000 have been ruled ineligible.
"I would emphasize that it's not Labour Party staff doing this, it is actually a panel of the national executive committee, who are people elected onto the national executive committee."

The party released a six-page briefing on Tuesday explaining how the leadership election is being conducted, which states that so far 553,954 people are eligible to vote in the contest.
READ MORE: No more military action against ISIS until Iraq War report published – Labour's Cooper

This is currently 57,000 fewer than the figures released on the sign-up deadline day.

The briefing stated: "The headline figures are different now from those given recently mainly because:

• People not being on the electoral register. On average this was about 15 percent of applications.

• Duplication of Affiliate and Registered Supporters, or who were already members.

• Members not being eligible because they are in arrears."

Many of the people being blocked are thought to be new members and supporters of Jeremy Corbyn. Harman rejected claims the left-wing candidate's supporters were being "purged."

"In undertaking these processes, we are completely impartial, the question is not which candidate you support, but do you support the aims and values of the Labour Party.
READ MORE: Labour leadership campaigns summoned to emergency meeting to quell fears over contest's credibility

"I want to absolutely assert, the party has been completely impartial as between the candidates but the party is not agnostic about the 2014 rules. The question is not which candidate you support. The question is do you support the aims and values of the Labour Party," she said.

Corbyn told the BBC the notion of Tory infiltrators was "nonsense."

"Are there any Tory infiltrators? I think there's been a lot of nonsense in the papers. About 600,000 people have either joined the Labour Party or signed up as supporters. We should be pleased about that … There were a few Tory MPs who tried to register, got rejected, end of story," he said.