​Dubai fraudsters ripped off bungling UK diplomats for almost £1mn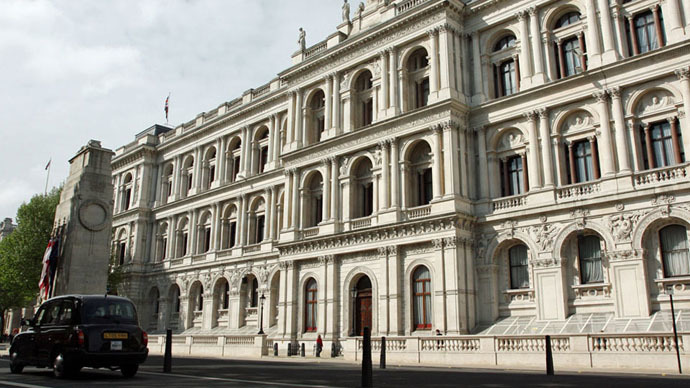 Fraudsters stole almost £1 million of taxpayers' money from unsuspecting British diplomats stationed in Dubai by posing as government suppliers, it has emerged.
Foreign Office officials based in Britain's Dubai Embassy handed over £889,840 (US$1,400) of taxpayers' cash to a fake firm in June 2014, only to discover the company was a front for fraudsters.
After the incident was reported by Britain's Foreign and Commonwealth Office to local police, a major investigation was launched.
READ MORE: Tory plans to block online porn could breach EU law
The white collar criminals thought to be behind the theft are believed to have entered the British embassy in June posing as official government suppliers.
Chair of the Foreign Affairs Committee Crispin Blunt sharply criticized the diplomats involved.
"The FCO's budget is relatively small compared to other departments, and to lose such a sum cannot be lost in the margins," he told the Daily Express on Monday.
"If they're unable to recover it, it will have a real impact on our policy-making capacity."
Just over £12,000 ($19,000) have been traced to a UK account and recovered, while a further £16,012 has been located in Ireland.
That leaves £870,572 held in accounts in Dubai which are now frozen and cannot be unlocked. Observers suggest this remaining cash may be written off as unrecoverable.
.@ukinuae British Embassy in #Dubai reportedly conned for Dhs 5 million - fraud being investigated http://t.co/n37oYdfhqM via @MailOnline

— Nawied Jabarkhyl (@nawiedj) July 15, 2015
A spokesman for the National Crime Agency (NCA), who worked alongside Lloyd's Bank to find the cash, told the Daily Mail, "We can confirm that we supported the process and engaged with Dubai Police on behalf of the Foreign and Commonwealth Office.
"We take fraud very seriously and have subsequently reviewed and amended our processes to ensure they are as robust as possible," he added.
"We expect to recover them once police investigations are concluded," he said.
"Due to an ongoing police investigation we are not able to give details of the fraud," a spokesman for the Foreign Office told the Express.
The Foreign Office spokesman further confirmed no UK officials were implicated in the fraud and that "the funds in question have been frozen by the relevant authorities."