9 injured in N. Ireland as unionists clash with police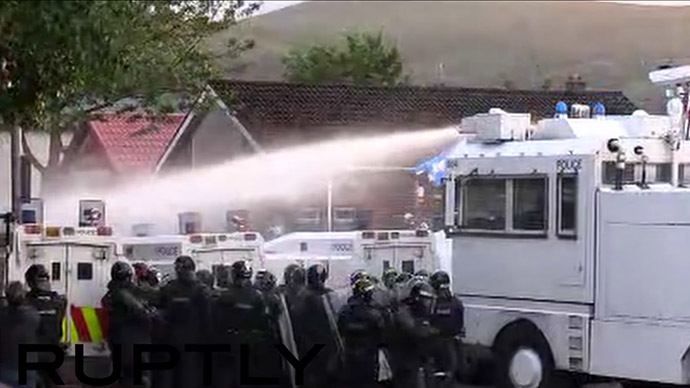 At least eight officers were injured as pro-UK Unionists unleashed a barrage of projectiles at police in northern Belfast. Police responded with water cannon and rubber bullets. A teenage girl was run over by a car and hospitalized amid the riots.
The violence began when Unionist marching bands, known as the Orange Order, were prohibited from marching along a stretch of the Crumlin Road that separates unionist and Irish nationalist communities.
As the demonstrators got close to the police lines, they threw empty bottles, bricks and metal bolts at the law enforcement.
Below is Ruptly's footage of the violence (WARNING: GRAPHIC VIDEO).
The video shows police officers being knocked unconscious, protesters throwing stones, police using water cannons, and a cameraman nearly being hit by one of the flying objects.
In a separate incident linked to sectarian tensions, a 16-year-old girl was run over by a vehicle on the Crumlin Road. Media reports suggest the car hit several people at an Irish-nationalist counter-protest, trapping the girl underneath. In a dramatic rescue, police had to overturn the vehicle. The teenager was hospitalized with head and neck injuries, but luckily avoided life-threatening harm.
Picture of young girl trapped under a car in #Ardoyne trouble, North #Belfast. Driver arrested, girl in hospital. pic.twitter.com/lz6L2FvHvg

— Jonny Rotten (@JonnyRotten8) July 13, 2015
The driver of the vehicle has been arrested, and the incident is being investigated. No official comments on possible intent were immediately available.
Police had been deployed to the Crumlin Road event to prevent clashes between Unionist and pro-Irish Nationalist communities for the third year in a row. A police helicopter was also dispatched to monitor the situation.
This is the second year in a row that holding marches on the Crumlin Road has been banned, leading to tensions at the yearly pro-Unionist event. The latest serious round of violence there was recorded in 2013.
Members of the Orange Order were making their way back from a parade that celebrated the victory of the Protestant King William III at the Battle of the Boyne in 1690, also referred to as the Twelfth of July parade, when Monday's clashes broke out.
Unionist marching bands celebrate the date every summer by taking to the streets of Northern Ireland. The day is usually fraught with potential clashes between Unionists – mostly Protestants – who want Northern Ireland to remain part of the UK, and Irish nationalists or Republicans – mostly Catholics – who would like to see the region part of a united Ireland.
This year, since the date fell on a Sunday, the parades were moved to Monday.
READ MORE: Belfast police reinforced on violence fears during Orangefest