Belfast police reinforced on violence fears during Orangefest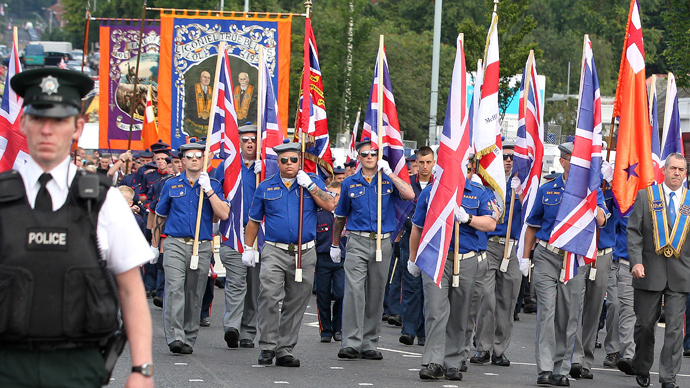 Belfast police have been reinforced by more than 600 officers from other UK branches ahead of the annual Orange Order parade. There are fears of riots breaking out following a ban on the Unionists from marching through a sectarian flashpoint.
Four thousand police officers have been deployed across the Northern Ireland ahead of the annual Orange Order parade. Tens of thousands of people are expected to take part in the celebration of a 17th-century military victory of a Protestant king over his Catholic counterpart.

The 12th of July is usually fraught with potential clashes between Unionists - mostly Protestants – who want Northern Ireland to remain part of the UK and Irish nationalists, or Republicans – mostly Catholics – who would like to see the region part of a united Ireland.

Belfast police are particularly on alert this time, as change in the march's route in the capital city was shortened this year, angering Unionists.

RT's correspondent in Belfast Sara Firth reports the situation is already becoming tense in the Ardoyne neighborhood, with police allowing only a limited number of people to pass.

A look behind the police line near #Ardoyne shops. Police saying only 100 + a band should be marching this route. pic.twitter.com/PMysEMeZt1

— Sara Firth (@SaraFirth_RT) July 12, 2013
The Parades Commission, the body regulating the annual event ruled that the Orangemen will not be able to return past the Irish-nationalist Ardoyne area, where violence has regularly broken out, including last year.

Earlier, Unionist leaders expressed outrage at the decision, disavowing the Parades Commission for creating "cultural, physical and spiritual apartheid."

"Yes, we are angry. There will be protests over the coming period, but it is our earnest intention and prayer that those protests will be peaceful," the Deputy Grand Master of the County Orange Lodge of Belfast, Spencer Beattie, said.

Despite the Orange Lodge's promise to keep protests peaceful, security concerns remain.

Northern Ireland secretary Theresa Villiers felt obliged to explain why she could not overturn the controversial ruling by the Parades Commission.

"The only power I have to intervene and override a Parades Commission determination is if I receive an application asking me to do that from the chief constable. He has not sent me such an application and so I don't in this case have any power over the decision," Villiers said as cited by The Guardian.

Last year's attempts to avoid violence between the two religious groups by giving participants a timetable and specified route proved futile. When the march passed through a nationalist district of the city fighting broke out, with Catholics and Protestants tossing bottles and stones at each other. The demonstrators eventually started throwing Molotov cocktails at police, who responded by firing plastic bullets and water cannons at the rioters.

Despite recent attempts to rid the 12th of July of political implications, casting it as a cultural and family-friendly event, it is still marked by outbreaks of violence.

Belfast has seen three decades of clashes between Protestant loyalists and Irish nationalists. Although a 1998 peace agreement led to a power-sharing government between the two groups, the situation remains volatile.

You can share this story on social media: