Greek crisis: 'Austerity politics rejected by popular vote, new path for EU,' says UK analyst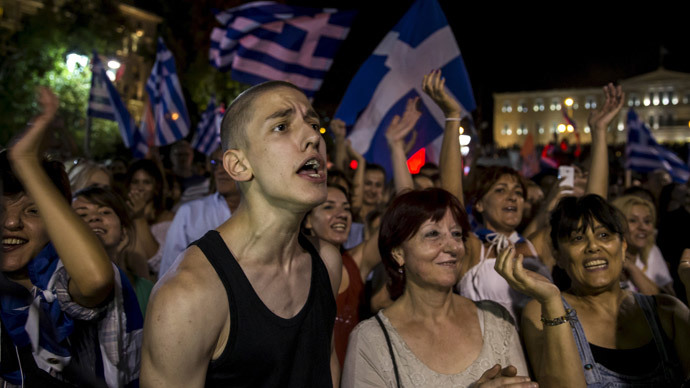 Austerity policies have been overwhelmingly rejected by popular vote in Greece, paving the way for a more just, humane and "people-centered" Europe, the director of Global Justice Now says.
Nick Dearden, who previously worked at Amnesty International UK, is a leading voice on global debt justice.
Speaking on Sunday, Dearden said Greece rejected the "violent imposition" of deluded Troika (IMF/ECB/EC) policies. Greece's referendum on July 5 marked an historic moment, as the small EU state rejected its foreign creditors' latest bailout package.
READ MORE: 'Support debt cancellation for Greece,' MPs, economists & campaigners tell Cameron
Branded flawed by the IMF, the president of Argentina, Irish senators, EU MPs, economists, academics and campaigners worldwide, the terms attached to the deal would have inflicted further economic hardship on an already crisis-ridden state.
Some 61.31 percent of the Greek populace backed a 'No' vote, while 38.69 percent backed a 'Yes'. A total of 6.16 million Greeks voted.
Although thousands of Greeks celebrated the victory of democracy and self-determination on Sunday evening, critical weeks lie ahead for Greece's leftist anti-austerity government. Financial analysts warn of a lack of liquidity in Greece's banking system, many Greek citizens are concerned and creditors' frustration is apparent.
Although Greek banks were due to open on July 7, it is unclear whether this will happen. Nevertheless, many Greeks are relieved the referendum is over.
Reflecting on Sunday's vote, Dearden said the global economy is deeply unequal and dependent on the voicelessness of ordinary people.
"For the first time in history, austerity politics have been put to a popular vote and they have been resoundingly rejected," he said.
READ MORE: #CancelGreekDebt: UK campaigners condemn ECB's 'act of financial war' against Athens
Dearden urged the international community to "stand with the people of Greece" to secure high levels of debt cancelation. Such international solidarity could turn the tide of austerity in Europe, redistribute wealth across the continent and spark regulatory reforms in Europe's banking system, he said.
The global justice analyst and campaigner condemned the actions of EU leaders and bureaucrats in the run up to the referendum.
"Commissioners, ECB officials and the president of the European Parliament have spent the last week trying to vilify and destabilize a democratically-elected government," he said.
"This is the lowest point the EU has ever known. Urgent reform of the EU is required and we cannot rely on the current institutions to do this."
Following Sunday's historic vote, some analysts predict a Grexit. Others believe Greece will remain within the euro, insisting the 'No' vote has opened a doorway to a fairer bailout deal for Greece. However, the German Finance Ministry says the reduction of Greece's debt burden is not on the table.
British Prime Minister David Cameron chaired an emergency meeting with the Bank of England (BoE) on Monday, as UK Euroskeptics cheer Greeks' defiance of Brussels. Speaking ahead of the meeting, he told ministers and the BoE to take whatever steps are "necessary" to protect the British economy.
READ MORE: 'The austerity delusion is dead, unless you're British,' says Paul Krugman
Italian Prime Minister Matteo Renzi insists Europe must find a permanent solution to Greece's debt crisis.
Russian President Vladimir Putin spoke with Greek PM Alexis Tsipras on Monday afternoon.
Putin and Tsipras discussed the 'Greferendum' results and international creditors' bailout conditions for Greece. They also spoke of potential bilateral cooperation between Athens and Moscow. Putin offered his support for the people of Greece in overcoming the state's difficulties.
British economist Ann Pettifor said eurozone leaders lack a legal means to oust Greece from the euro without substantial treaty reforms.
Pettifor, a leading analyst and critic of modern finance, said while eurozone leaders can and are actively pushing for "regime change" in Greece, they cannot expel the Mediterranean state from the bloc in the absence of a "legal provision."
READ MORE: Greece should stay in the euro – European Commission
Argentine President Cristina Kirchner said the Greek electorate's 'No' vote was "an outright victory of democracy."
"Greek people have said no," she said.
"We Argentines understand what this is about. We hope Europe and its leaders understand the message of the polls."
Kirchner said the terms attached to the Troika's bailout package were "impossible and humiliating."
"Nobody can be asked to sign their own death certificate. The words of [previous] President [Nestor] Kirchner still resound at the UN General Assembly in 2003: 'The dead do not pay their debts,'" she said.
Irish Senator Gerard Craughwell insisted the Troika must pursue a more just policy path.
"It's time for the EU/ECB/IMF to start to look for a better fairer way. They simply cannot starve a population into submission," he said.
Irish TD (MP) Paul Murphy said it is possible the ECB will move to "crush Greek banks." He said "solidarity protests across Europe will be vital."