'Support debt cancellation for Greece,' MPs, economists & campaigners tell Cameron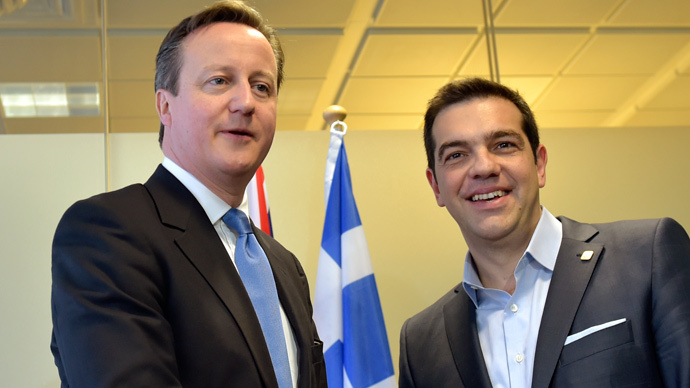 MPs, trade unionists, economists and campaigners have called upon David Cameron to support debt cancellation for Greece, saying it could be funded by seizing capital from speculators and banks that were the true beneficiaries of Athens' bailouts.
In an open letter to the prime minister, some 25 Labour and Green Party MPs demanded the government back the organization of a European summit to agree upon a debt write-down for Greece.
Published by the Guardian on Sunday, the letter called for an end to destructive austerity policies that have wrought poverty and injustice across Europe.
IMF has made €2.5 billion profit out of Greece loans • Jubilee Debt Campaign UK http://t.co/gT09g0pCHp via @dropthedebt

— Vasileios Zervos (@vassiliszervos) June 28, 2015
The letter's signatories urged Cameron to back debt cancellation for other struggling EU states, the economies of which remain stagnant as the eurozone crisis prevails. They also called for a human rights approach to dealing with Europe's debt crisis, which would send a message to financiers and banks that ordinary people will no longer be made liable for "reckless lending."
Leading representatives of the Trade Unionist Congress (TUC), Unite, GMB, Jubilee Debt Campaign, War on Want, Greece Solidarity Campaign, Global Justice Now, Prime Economics and the New Economics Foundation (NEF) were also among the letter's signatories.
Europe's democratic deficit
As the threat of a bank run looms over Athens, the Greek government has called a referendum on the Troika's (IMF/ECB/EC) latest round of economic demands.
Following the Troika's refusal to unlock further emergency funding for Greece, Greek Prime Minister Alexis Tsipras has resolved to let the people of Greece decide on a path forward. The referendum is scheduled for Sunday.
The dignity of the Greek people in the face of blackmail and injustice will send a message of hope and pride to all of Europe. #Greece

— Alexis Tsipras (@tsipras_eu) June 28, 2015
The Troika's leading negotiators Christine Lagarde of the IMF, Jean-Claude Juncker of the EC and Mario Draghi of the ECB are hopeful the referendum will backfire on the Greek government. However, Syriza remains defiant in the face of continuing pressure from international creditors and EU leaders.
Speaking on Greek television on Sunday night, Tsipras accused EU ministers and the ECB of attempting to blackmail the people of Greece and hinder Sunday's referendum. He said they would fail in both objectives.
Greece had requested a short extension of its bailout program to allow Greeks time to decide by popular vote on the Troika's most recent series of economic demands. But Syriza's proposal was rejected by the ECB and eurozone ministers on Saturday.
Branding the outcome of Saturday's emergency talks "a disgrace to Europe's democratic traditions," Tsipras said Greeks' resolve to reject the Troika's "unacceptable" ultimatums is strong.
Can Greeks be scared into voting for endless austerity? Let's show there's support across Europe to #CancelGreekDebt: http://t.co/noWtyyGEsN

— JubileeDebtCampaign (@dropthedebt) June 26, 2015
Greek banks have remained open in recent weeks largely because the ECB provided funds to compensate for potential capital flight. Syriza's recent decision to instigate an emergency bank holiday and introduce capital controls illustrates how serious matters have become.
Tsipras' decision to bring in capital controls was motivated by a will to prevent long queues outside banks and the flight of capital from Greece this week.
Possible Grexit
As the Greek government prepares for Sunday's referendum, it is pondering exactly how Greece could go about exiting the euro.
Tsipras and Greece's finance minister, Yannis Varoufakis, have long insisted a Grexit is not their intention or desire. But if Sunday's referendum supports Syriza's perspective, such an outcome is possible.
On Friday, Cameron expressed doubt over whether Greece's economy could recover on the Troika's watch. The PM's analysis surfaced in a leaked diplomatic document, drafted in advance of eurozone finance ministers' negotiations on Saturday.
Addressing fellow EU ministers, Cameron said a Greek withdrawal from the eurozone "might be better" for the people of Greece. He suggested such a move would incur "major risks," but would ultimately pave the way for Greece's economic recovery.
.@CarolineLucas explains on our blog why she's standing with Greece in Trafalgar Sq. tonight http://t.co/kYS8j0GJHNpic.twitter.com/vQMq7IoZY9

— Global Justice Now (@GlobalJusticeUK) June 29, 2015
Speaking to RT on Monday, Nick Dearden of Global Justice Now said the EU's "hardlined and inhumane policies" could spark an international crisis.
"The EU and the IMF seem to be hell-bent on ruthlessly punishing Greece for daring to stand up against grossly unfair debt conditions that are causing enormous amounts of suffering," he said.
"Refusing to allow a short delay for the referendum to take place is a brutal enforcement of unfettered capitalism over democracy and the needs of people."
The Greek electorate has set up a special commission to examine the fairness and legitimacy of Greece's debt burden. However, the Troika has blocked democratic participation in challenging its economic demands.
Dearden stressed support for a Greek debt write-down is widespread across the EU.
"Across Europe tens of thousands of people are calling for there to be a cancellation of Greece's debt in the same way that Germany's debt was cancelled in 1953," he said.
"This violent imposition of austerity in Greece will leave yet more blood on the hands of the EU's financial class."