'The austerity delusion is dead, unless you're British,' says Paul Krugman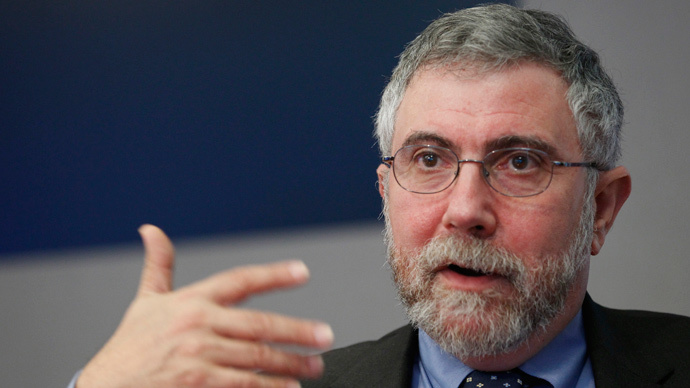 Conservative and Labour plans to unleash further austerity on Britain's electorate have been denounced by distinguished global economist Paul Krugman who warns continued austerity will hamper Britain's incomplete economic recovery.
In a letter published by the Guardian on Wednesday titled 'The Austerity delusion,' the Nobel Prize-winning economist challenged Prime Minister David Cameron's claim to have saved the British economy.
Krugman, who teaches Economics at Princeton University, said Britain only returned to growth midway through the government's term in power after it caved on its agenda of repairing the nation's finances in a five year stint.
In a scathing attack on Labour and the Conservatives, Krugman said the Tories are doomed to repeat the same mistakes if they enter government for a second term, while Labour's failure to oppose austerity is perplexing.
READ MORE: 'Austerity has failed!' Coalition caused sharpest fall in living standards since 1960, says TUC
Krugman warned against the resurgence of "austerity fever," which gripped Western elites in the wake of the financial crisis. He stressed this loyalty to fiscal rectitude was a delusion born of hope and fear.
Reflecting on recent economic history, Krugman said the benefits of fiscal probity peddled so furiously by austerity advocates never materialized.
Every single state that ran a significant deficit in the wake of the global financial crisis has suffered, with each country's depth of suffering related to the ferocity of austerity applied, he said.
Krugman also noted that the International Monetary Fund (IMF) now believes it "massively understated the damage that spending cuts inflict on a weak economy" and that all economic research backing austerity "has been discredited."
Krugman said the austerity ideology "has collapsed" worldwide and is considered to be widely discredited, yet Britain's coalition government and mainstream media still buy it.
"I don't know how many Britons realize the extent to which their economic debate has diverged from the rest of the western world – the extent to which the UK seems stuck on obsessions that have been mainly laughed out of the discourse elsewhere," he said.
READ MORE: Emotional toxicity of austerity eroding mental health, say 400 experts
Attacking the British establishment, Krugman contrasted the UK's political climate with that of America's. With a mixture of bewilderment and amusement, he noted the UK press depicted Ed Miliband's recent failure to broach the budget deficit in a campaign speech as a blunder of seismic proportions while Hillary Clinton is straight talking about the "fun deficit" facing children across the US.
Krugman said an overarching "deficit obsession" rules in Britain even as it fades elsewhere. He said this "intellectually bankrupt" devotion to austerity has become a "distinctly British delusion" and will inevitably lead to further economic struggle.
Reflecting on the Conservative Party's legacy in government, Krugman claimed the party used "the alleged dangers of debt and deficits as clubs with which to beat the welfare state and justify cuts in benefits."
Focusing on Labour, he added: "If the political opposition won't challenge the coalition's bad economics, who will?"
Turning his gaze to the Eurozone, the Nobel laureate noted the European Central Bank has deviated somewhat from its previous austerity-fuelled path.
In particular, he stressed the ECB's decision to buy bonds from financially struggling Eurozone states allows it to finally "do its job" and protect its clients against market volatility and "self-fulfilling panics."
You can share this story on social media: