​'Vote Corbyn': Britain's biggest union Unite backs socialist for Labour leadership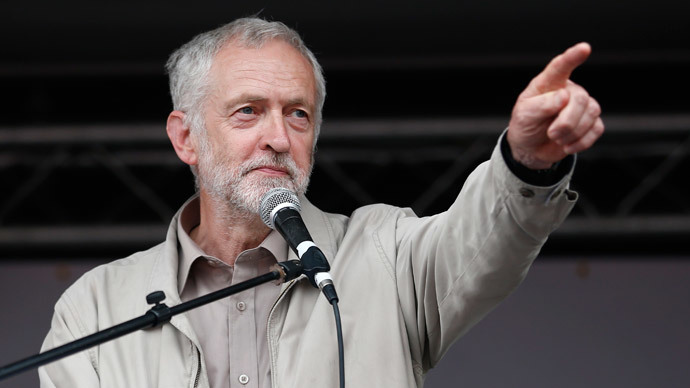 Left-wing Labour Party leadership candidate Jeremy Corbyn has won the backing of Britain's biggest trade union, Unite, prompting speculation he could make a strong challenge in the contest.
Unite voted to back veteran socialist Corbyn as its first choice in the leadership contest because his anti-war, anti-austerity policies are "most closely aligned" with those of the union.
Support from Unite, Labour's biggest financial backer, has prompted a senior Labour lobbyist to predict Corbyn will come second in the leadership race.
The union will advise members to support Andy Burnham, who remains the bookies' favorite in the race, as a second choice.
Unite joins five other unions, including the Fire Brigades Union (FBU) and the RMT transport union in backing Corbyn for leader against his rivals Andy Burnham, Yvette Cooper and Liz Kendall.
Unite's National Executive Committee, an elected body of 63 members from across the UK, voted to back Corbyn following a multi-union hustings held on June 30 and meetings with elected representatives within the organization.
READ MORE: Corbyn's left-wing leadership bid a 'disaster' for Labour, say rattled MPs
In a press release, Unite said: "The biggest union in the UK will support Jeremy Corbyn in the upcoming vote for the leader of the national Labour Party.
"The union will advise members that the executive council also voted to back Andy Burnham as the second preference candidate.
"The backing for Jeremy Corbyn was in recognition that his policies were most closely aligned with those of Unite," it added.
The union did not nominate a candidate for deputy leader, but recommends its members support Tom Watson and Angela Eagle in their first and second preferences votes as they see fit.
Unite is the largest union in the UK, with over 1.4 million workers across all sectors of the economy. Unison and the GMB – two other big unions affiliated with Labour – will decide whether to endorse a candidate later this month.
Labour lobbyist Luke Akehurst has predicted Corbyn will come second in the race, following the announcement.
@PickardJE I think he could get in final two and only lose on transfers

— Luke Akehurst (@lukeakehurst) July 5, 2015
Burnham, who runs on a centrist platform, was a shoe-in for Unite's support before veteran left-winger Corbyn entered the race.
Although the announcement is a setback for Burnham's campaign, his allies are undeterred as they believe the leadership election will be won on second preferences, The Times reports.
One Labour MP said: "Jeremy Corbyn would do for our electoral chances what myxomatosis did for rabbits."
He told The Times Unite's decision left Burnham "in a good place, the Labour Party in a bad place and the link with the trade unions in an irretrievable place."
"Unite have nailed their colors to the mast. They want to take the Labour Party down a Corbyn cul-de-sac. If their candidate loses — especially if he loses badly — then it's time to look at what future, if any, there is for the unions having any say in the party."
READ MORE: #ToriesForCorbyn: Conservative saboteurs back socialist MP for Labour leadership
Labour insiders have suggested the Blairite contingent within the party could be marginalized in the election.
An anonymous source told the Daily Telegraph that Liz Kendall, the leadership contender with the most Blairite policies, could come in fourth place.
Corbyn said: "It is a great honor to receive Unite's nomination, and it underlines that this a serious campaign that has growing momentum."
"The leadership election is about one issue above others: whether we accept another five years of a race to the bottom based on cuts that destroy services and damage living standards, or whether we invest our way to a growth and fairness."
He added a trenchant defense of the Labour Party's ties to trade unions, at a time when both left-wing union activists and moderate Labour MPs have been questioning the value of the link.
"Trade unions are a force for good, a force for prosperity and we should listen to them more," Corbyn said. "For Labour to win again, it must show it is on the side of the majority. Without trade unions there would be no Equal Pay Act, no minimum pay, no Labour Party."