​Corbyn's left-wing leadership bid a 'disaster' for Labour, say rattled MPs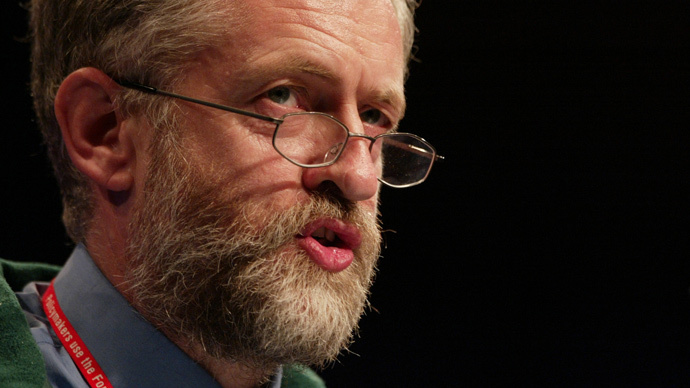 Labour MPs are lamenting the inclusion of anti-war, anti-austerity MP Jeremy Corbyn in the party's leadership contest, branding it a "disaster."
The veteran socialist set out an unreservedly left-wing vision during Wednesday's BBC Newsnight leadership hustings and received recurrent applause – apparently to the chagrin of moderate parliamentary colleagues.
Speaking anonymously to The Times, on senior Labour MP said: "This is a disastrous decision. To say this is a Michael Foot moment is to elevate Michael to heroic proportions … even allowing Jeremy's views, the oxygen of publicity is going to remind people that at least a quarter of the Labour Party actually support his views."
READ MORE: #ToriesForCorbyn: Conservative saboteurs back socialist MP for Labour leadership
Michael Foot led the party to defeat in the 1983 general election on a broadly left-wing manifesto.
Another anonymous Labour source told The Times: "This is making us look utterly backward. Why are we fighting the battles of the past?"
Corbyn will take part in up to 16 other Labour hustings between now and the leadership election in September.
On Wednesday it was reported that some Conservatives are planning to try and vote online to elect Corbyn to the Labour leadership in the hope that his victory will cause Labour long-term damage and supposedly help the Tories win at the next general election.
Under new rules introduced by former leader Ed Miliband, it is now possible to become a Labour "supporter," as opposed to a full member, complete with voting rights in the leadership election.
Many on the political right have latched on to the development as a means of allegedly ruining Labour. They claim British voters would shun Corbyn's radicalism were he to lead the party into a general election.
READ MORE: Tony Blair warns of 'severe defeat' if Labour moves left
A Twitter campaign called #ToriesForCorbyn is now well under way. Meanwhile, many on the left are campaigning for social media users disillusioned with right-wing Labour policies to use the same supporters' scheme to join or rejoin the party and elect Corbyn.
Campaign for Labour Party Democracy spokesman Jon Lansman told the Morning Star newspaper: "I think we will see lots of people joining up to back Jeremy.
"There are an awful lot of people out there who have been disillusioned for years, who maybe used to be members of the party who will rejoin in some way."