Wedding sting: British authorities 'afraid of seeming racist' when challenging sham marriages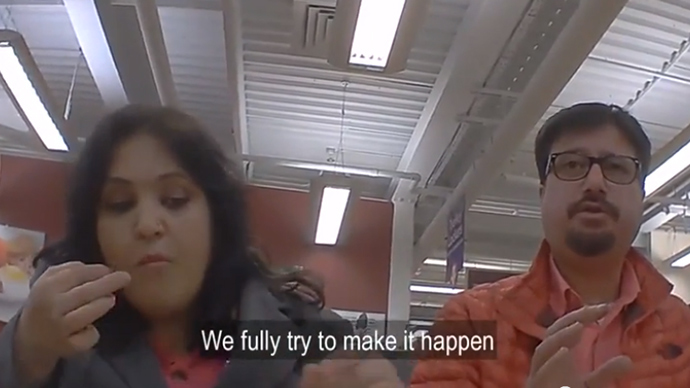 Fake marriage fixers were caught boasting about their deeds in a secret video recording where they promised sham couples they wouldn't get caught because the "soft" British authorities are scared of being called racist.
Sham marriages are on the rise in Britain and they're occurring at a rate of one an hour, according to government figures.
Immigrants desperate to live and work in Britain indefinitely are paying large amounts of money to marry a Briton, allowing them to legally remain. The Home Office reported 7,606 fake weddings in the UK last year.
In March, the government introduced stricter regulations in an attempt to cut the number of fake marriages happening in Britain.
The measures highlight what a "genuine" marriage is. They also extended the period before partners can apply for settlement in the UK from two to five years.
Anybody without a European passport or permanent residency in the UK could face an investigation of up to 70 days by the Home Office.
ITV Expose went undercover to investigate the booming industry in a show called "How to Buy Your Way into Britain" that will air Thursday.
Their undercover team discovered a case where marriage fixers offered a young woman as a fake bride for £10,000.
READ MORE: Track fire closes Eurostar tunnel at Calais
Chris, the fixer, gave the fake bride and the fake groom, who was a reporter, tips on cover stories to tell the Home Office.
The fake bride, Sarah, was also scared of getting in trouble, but Chris told her not to worry.
"If she was Polish that would be a lot more suspicious and dodgy. Look, she's British, you will not get into trouble," the fixer told the couple.
"As far as ethnicity, religion, that is very, so touchy they are scared to bring it up. It's not [politically correct]. It's not something they'll bring up, for fear of being called racist," he said.
Chris told the couple the "simplest story" is to tell the Home Office they met on a dating site. "That's a simple story cause that's what everyone is doing these days."
Another pair of fixers admitted what they were planning was a serious crime, but showed no remorse. They were also filmed mocking the British government, calling it "unbelievably soft."
READ MORE: Calais migrant crisis: UK to beef up border security with 9ft high, 2.5 mile fence
"It's too soft here, the system ... this whole game is peanuts," one of the fixers said.
Former Crown Prosecution Service chief Nazir Afzal told ITV that the video footage "demonstrates how big a scale of the problem we face."
He told the Mail Online that officials are worried about being accused of racism, so they may have avoided challenging some fake couples.
"People these days are less likely to ask those kinds of questions because they don't want to be accused of being racist," he said.
"The saddest thing is that we, the British taxpayer, the public, lose out, and that can't be right," he said.
The investigation also found more same sex marriages are being fixed.
All parties exposed in the footage, including the fixers, deny culpability.