Track fire closes Eurostar tunnel at Calais
Published time: 30 Jun, 2015 14:01
Edited time: 26 Aug, 2015 11:22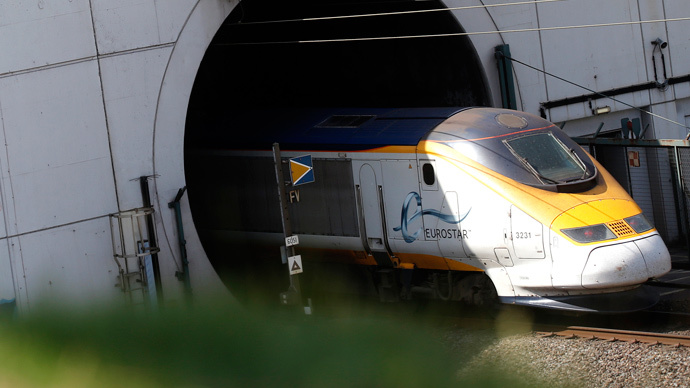 Eurostar services have been suspended after striking workers in Calais allegedly started a fire on the tracks. It is not clear when they will re-open.
The train provider initially announced services were delayed due to the presence of protesters on the tracks, but later confirmed that a fire had been started.
Eurostar tweeted the news, saying access to the tunnel was "currently suspended due to fire on the tracks in Calais caused by demonstrators."
Channel tunnel access is currently suspended due to fire on the tracks in Calais caused by demonstrators. Further updates to follow shortly.

— Eurostar (@Eurostar) June 30, 2015
Industrial action by an estimated 400 workers is expected to keep the port closed until Thursday, Kent police confirmed. A spokesperson for the service added they were "currently aware" of disruption in the Channel Tunnel in both directions.
"It is anticipated that due to industrial action in France the Port in Calais will remain closed until Thursday," they said.
The strikes have caused disturbances in the migrant camp at the town, which has swelled dramatically in previous months and is now home to over 3,000 people, with individuals attempting to board trucks stranded at the port.
READ MORE: Calais migrant crisis: UK to beef up border security with 9ft high, 2.5 mile fence
Britain announced on Monday it would install 2.5 mile (4km) of high-security fencing along the UK border in France in a bid to prevent illegal migrants from entering the Channel Tunnel.
Construction of the 9ft (2.74 meter) high fence, known as the National Barrier Asset, which was used during last year's NATO Summit and the London Olympics, will begin immediately at the truck terminal in Coquelles near Calais and should be completed by late July.
Minister of State for Immigration James Brokenshire said the government is concerned about the number of migrants attempting to cross the border illegally in recent weeks.
Home Secretary Theresa May said government officials would meet with transport firms to discuss the new arrangements.
"We need to send a very clear message that people will not be able to get through," she told the BBC's Andrew Marr Show on Sunday.
"James Brokenshire will be meeting with hauliers [transportation workers] again this week to talk further about steps that can be taken to enhance security, to ensure that people aren't able to get into the lorries [trucks] in the first place."