'Britain would be better off with euro,' says Virgin boss Branson
Published time: 29 Jun, 2015 15:10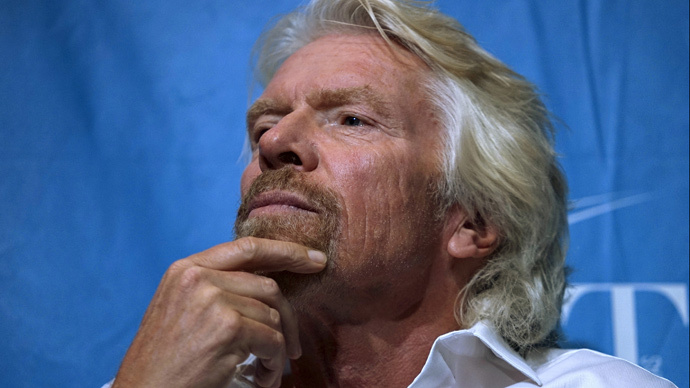 Britain's economy would be stronger now had the UK joined the euro, billionaire Virgin Group founder Sir Richard Branson says.
Despite the turmoil engulfing Europe as Greece's debt crisis intensifies, Branson said UK exports to Europe would have been strengthened had it adopted the euro.
The gilded founder of Virgin Group made the remarks during a BBC interview on Sunday, as Prime Minister David Cameron continues to lobby Brussels on Britain's EU membership terms.
.@richardbranson: Leaving the EU would be 'catastrophic' http://t.co/T3tgabAHwgpic.twitter.com/6uqjLemUyV

— The Telegraph (@Telegraph) June 28, 2015
Branson's comments surfaced as Cameron's efforts to redefine Britain's ties to Brussels were met with renewed criticism from his fellow party members.
Asked whether he was glad the UK retained the pound, Branson said he was not.
"I think that if we were part of the euro right now our currency would be a lot cheaper," he said, adding the UK's exports to Europe would also have improved.
Branson backed the European project – in its current guise – suggesting it could be as influential as the United States.
He said Britons should be "proud of being Europeans."
BIG BUSINESS Richard Branson Spews Pro-EU Propaganda For His Own Agenda: http://t.co/Y91MitK71I via @YouTube

— Bush Pirate Blitzer (@BushPirateBlitz) June 29, 2015
London Mayor Boris Johnson has signaled he may back a 'Brexit' in the Tory referendum on Britain's EU membership. Sources close to Johnson told the Times the mayor believes such a move could spark additional concessions from EU leaders, as Britain prepares for the plebiscite.
As Cameron's negotiations with EU leaders continue, ex-Tory Justice Secretary Kenneth Clarke dismissed one of the PM's core demands as "sheer nonsense."
Clarke condemned Cameron's objective of limiting working EU migrants' access to state welfare, and called for European solidarity.
"I don't want the French to do that to young British people working in France, and I don't want to do that against Polish people working … here," he told Sky News.
Branson, who is a strong advocate of Britain's EU membership, warned a Brexit would be "catastrophic" for the UK's economy. He warned such a move would leave Britain's government with its hands tied behind its back in the field of trade negotiations.
"We're talking from a position of strength," Branson said. "If we go back to being Great Britain again we will have our hands tied behind our back."
Asked if he planned to spearhead an official campaign for Britain to remain in the EU, Branson maintained he was "not going to be on a soapbox."