GCHQ secret unit involved in domestic internet manipulation - report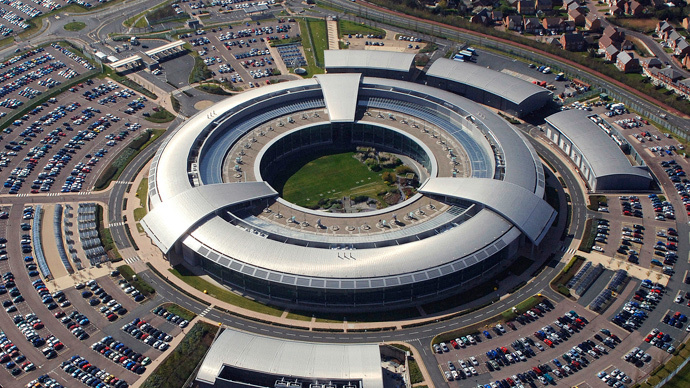 A secretive unit of the UK's GCHQ intelligence agency reportedly helps traditional law enforcement with domestic spying and online propaganda, recently published documents reveal.
Documents recently published by the Intercept show how a secretive unit of the GCHQ, called the Joint Threat Research Intelligence Group (JTRIG), has been involved in domestic operations when not busy with counterterrorism operations abroad.
A 42-page report from 2011, entitled 'Behavioral Science Support for JTRIG's Effects and Online HUMINT [Human Intelligence] Operations,' which details JTRIG's activities, has recently been made public. It describes how the unit uses tactics to manipulate public opinion based on scientific and psychological analyses.
Glenn Greenwald and Andrew Fishman, who released the report, suggest that the targets of these manipulations are "traditionally the province of law enforcement rather than intelligence agencies."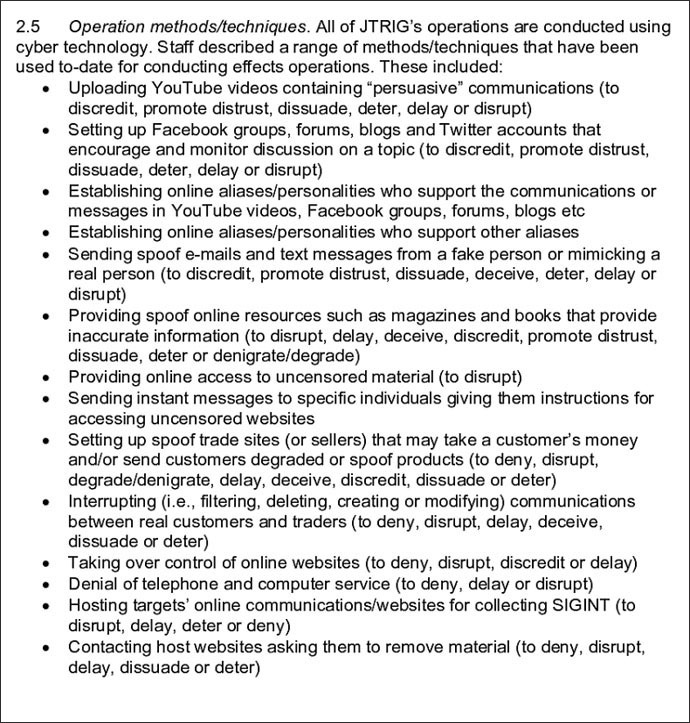 The report states that the JTRIG works with such agencies as the Metropolitan police, Security Service (MI5), Serious Organised Crime Agency (SOCA), Border Agency, Revenue and Customs (HMRC), and National Public Order and Intelligence Unit (NPOIU).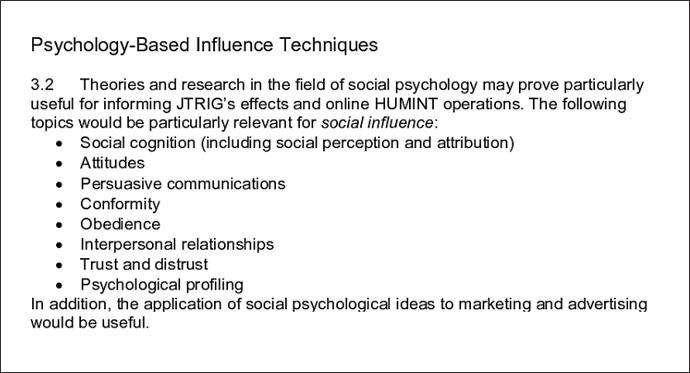 The GCHQ unit collaborates with the agencies, "providing intelligence for judicial outcomes," monitoring "domestic extremist groups such as the English Defence League by conducting online HUMINT," "denying, deterring or dissuading" criminals and "hacktivists," and "deterring, disrupting or degrading online consumerism of stolen data or child porn."
Meanwhile, GCHQ spreadsheets recently published by the Intercept show that the spy agency provides intelligence to the Bank of England, the Department for Children, Schools and Families, departments dealing with agriculture and whaling activities, government financial divisions, as well as police agencies and law enforcement agencies to improve "civil and family justice."
READ MORE: Britain a magnet for cyber-attacks, intl espionage, says MoD chief
Although the British spy unit has been purported by officials to be involved in international intelligence in places like Iran, Afghanistan and Argentina, "the closest the group seemed to get to home was in its targeting of transnational 'hacktivist' group Anonymous," the Intercept reported.
An August 2009 JTRIG memo entitled 'Operational Highlights' and cited by the Intercept reportedly "boasts of 'GCHQ's first serious crime effects operation' against a website that was identifying police informants and members of a witness protection program." Another operation, according to the site, focused on an online forum which allegedly "used to facilitate and execute online fraud." GCHQ's support has also been credited with helping "to assist the UK negotiating team on climate change," according to the report.
READ MORE: Snowden leaks suggest GCHQ complicity in Yemen drone strike – lawyers
"Beyond JTRIG's targeting of Anonymous, other parts of GCHQ targeted political activists deemed to be "radical," even monitoring the visits of people to the WikiLeaks website," The Intercept reported, adding that "GCHQ also stated in one internal memo that it studied and hacked popular software programs to 'enable police operations' and gave two examples of cracking decryption software on behalf of the National Technical Assistance Centre, one 'a high-profile police case' and the other a child abuse investigation."

Documents leaked by Snowden revealed that JTRIG's secretive activities descended to some particularly 'dirty tricks' like deploying sexual 'honey traps' to discredit targets, launching denial-of-service attacks to shut down internet chat rooms, pushing veiled propaganda onto social networks and warping online discourse, just to name a few.
You can share this story on social media: