​Snowden leaks suggest GCHQ complicity in Yemen drone strike – lawyers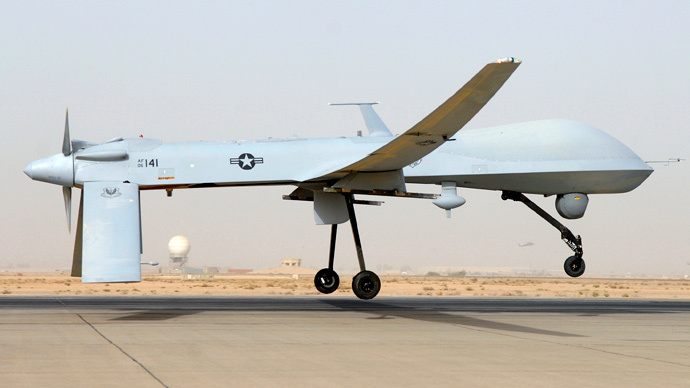 GCHQ is under pressure again on Wednesday after lawyers claimed documents leaked by NSA whistleblower Edward Snowden may indicate complicity in US targeted killing missions.
A leading barrister has been asked to assess classified documents given to the Guardian newspaper by NSA whistleblower Edward Snowden.
The files discuss how a US, UK and Australian joint operation codenamed Overhead was involved in a targeted killing in Yemen in 2012.
READ MORE: 45 veterans sign letter urging drone pilots to stand down
The documents are alleged to show that Overhead and GCHQ developed their abilities to track potential targets in both Yemen and Pakistan – abilities which are key to the targeted killing program pursued by the US.
Experts say US operations in both nations are, at best, legally dubious. Yemen and Pakistan are not officially recognized battlefields, unlike Afghanistan where the UK has also been involved in drone strikes.
"Assuming that the documents which I have seen are genuine, in my view they raise questions about the extent to which UK officials may have had knowledge of, or helped to facilitate, certain US drone strikes which were not carried out in the context of an international armed conflict," the barrister, Jemima Stratford QC, told the Guardian.
"These documents underline why greater transparency as to UK official policies would help to ensure legality from a domestic and international law perspective."
Some sections of the spy community are said to be highly resistant to disclosure.
READ MORE: 'Refusenik' spies may resist 'intrusive capabilities' disclosure
On Tuesday, David Anderson QC, who is reviewing GCHQ, MI5 and MI6 surveillance powers, said the agencies in question should make their capabilities known in a "public avowal."
The Anderson Report, which be debated by MPs on Thursday, accepts that the "operation of covert powers is and must remain secret," but argues that "public authorities should all be as open as possible in their work. Intrusive capabilities should be avowed."
"The new director of GCHQ, Robert Hannigan, is a modernizer but there is still a strong refusenik faction there which thinks everything should stay secret," the Times newspaper quotes one anonymous source as saying.
You can share this story on social media: