Belfast court rejects inquiry into 1989 loyalist murder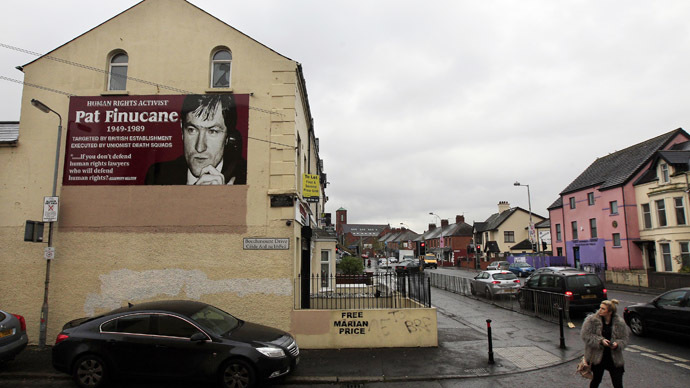 A Belfast court has ruled there will be no Bloody Sunday-style inquiry into the 1989 murder of lawyer Pat Finucane, despite claims of security services collusion.
The decision comes as the bodies of suspected IRA victims were being unearthed from an Irish bog.
Justice Stephens ruled on Friday to uphold a 2012 decision by Prime Minister David Cameron not to pursue an inquiry into the Finucane murder.
READ MORE: Sole survivor: IRA informant claims British police abandoned him to death squads
"I uphold that the decision was lawful, and accordingly I dismiss that part of the challenge," he told the court.
His decision comes despite past claims by Finucane's widow, Geraldine, that the British government had "engineered a suppression of the truth behind the murder of my husband" in a previous investigation.
The Finucane killing, in which the lawyer was slain in front of his family in February 1989, was one of the most controversial murders carried out during the Troubles.
Allegations endure of collusion between British security forces and the loyalist paramilitaries who carried out the murder, with the De Silva inquiry into the attack having found there were "shocking" levels of complicity.
At a press conference following the publication of the De Silva report in 2012, Geraldine Finucane said: "At every turn it is clear that this report has done exactly what was required – to give the benefit of the doubt to the state, its cabinet and ministers, to the army, to the intelligence services and to itself.
READ MORE: 43yrs for justice: Ireland takes UK to human rights court over Hooded Men case
"At every turn, dead witnesses have been blamed and defunct agencies found wanting. Serving personnel and active state departments appear to have been excused."
As the ruling was announced, bodies thought to be those of disappeared victims of IRA violence were being unearthed from a bog in County Meath in the Republic of Ireland.
Specialist investigation teams were searching for the body of monk-turned-IRA man Joe Lynskey, who was allegedly murdered by the IRA for being a double agent. Investigators, however, say they have discovered two bodies.
The victims in such cases are often referred to as the 'disappeared.'
Jon Hill, a senior investigator from the Independent Commission for the Location of Victims Remains (ICLVR), told the BBC: "We were searching for the remains of Joe Lynskey, only expecting to find the remains of one person.
"As the archaeologists were uncovering the remains they had found, it became clear that there was more than one where we were searching."
The investigators believe the bodies were buried together at the site, which they say may also have been used by the IRA to dump other victims.
Hill said it would be several weeks before DNA test results were available.
You can share this story on social media: